For nearly 35 years, François Chartier has been visiting the vineyards of the world, meeting the men and women behind the vines and the wines. For 35 years, he has been sharpening his senses by tasting beverages from here and elsewhere, always with the same curiosity, always with the same passion.
Producing his own wines was a natural progression in his career. He has been renewing the experience, vintage after vintage, since 2011, relentlessly fine-tuning each step, from the vineyard to the cellar.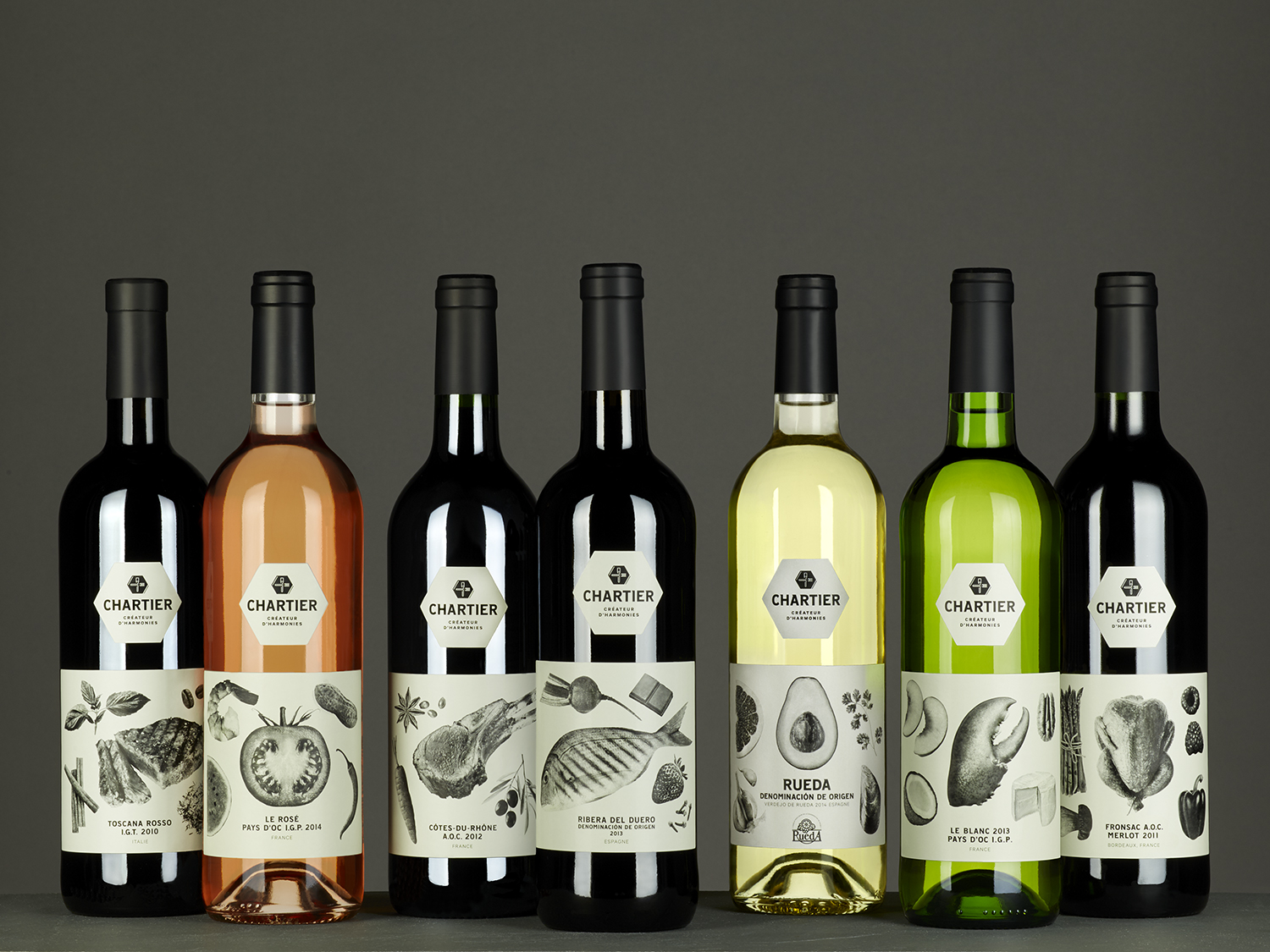 The complicity between Pascal Chatonnet, the oenologist and "wine alchemist," and François Chartier, the "créateur d'harmonies," is obvious. Together, they select, blend, mature and bottle François Chartier wines in Europe. There are also exchanges and collaborations with the artisan winegrowers, professionals with know-how that is often passed down from generation to generation. An inexhaustible source of information for François Chartier, the unstoppable researcher.
Since Toscana Rosso in 2009, Chartier wines have always been a great success, thanks to meticulous work and an original approach to the harmony of blends which are designed to match specific foods.
"I have created wines that go well with specific foods thanks to my knowledge of wine and food pairings and the aromatic science I developed", explained François Chartier. "To do this, I have selected, blended, aged and bottled wines that share the same aromatic profile as a wide range of foods. These are wines that will create perfect harmony with specific food families and make pairing at the table easier. Finally, since my approach is to create wines inspired and selected by the table and for the table, I choose wines with an easily digestible and ready-to-drink profile. Still, all of them have an excellent aging potential in the bottle," explains François Chartier.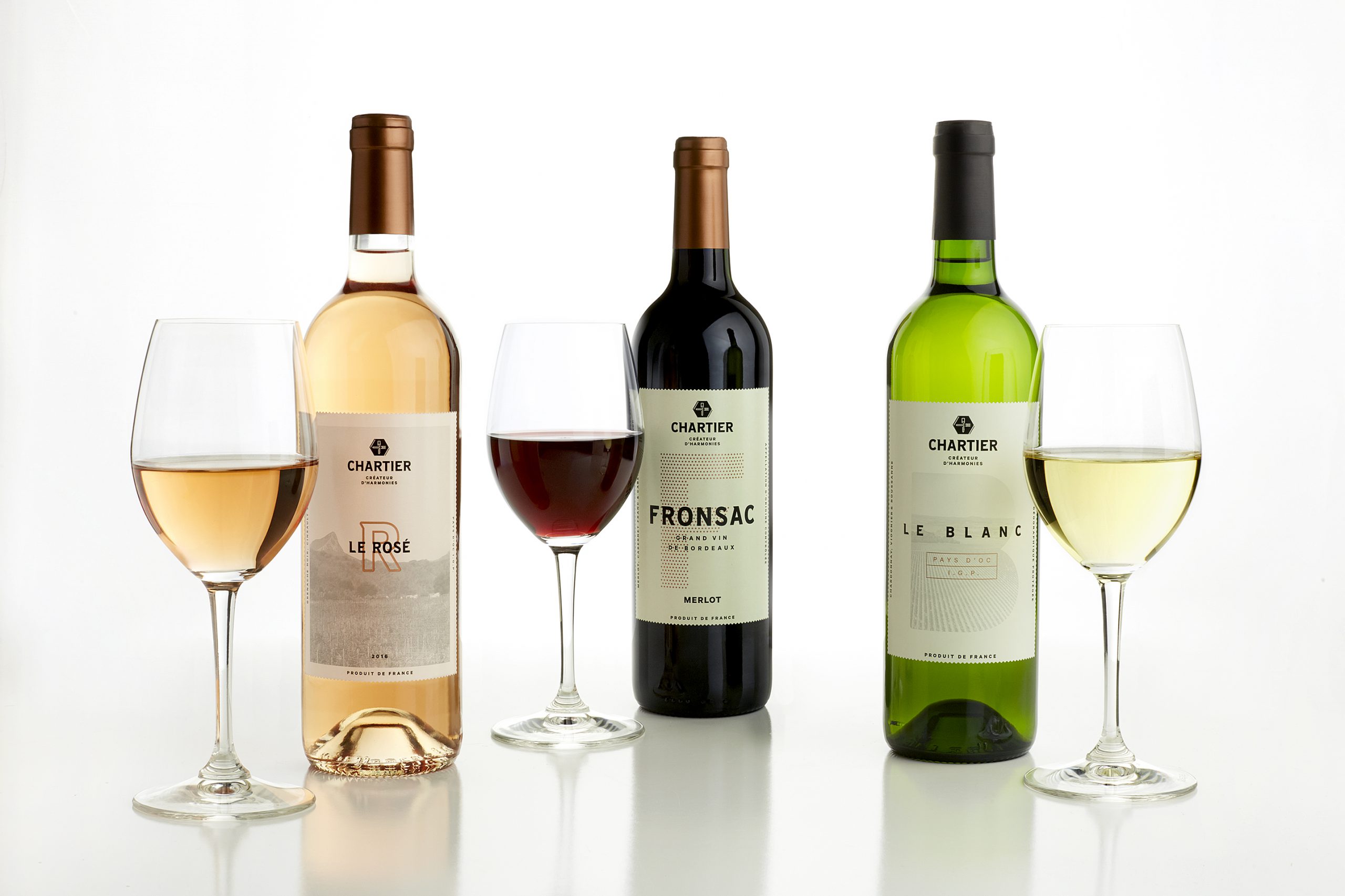 Évolution of the wine range
Quebecer François Chartier, "créateur d'harmonies", who has spent 35 years visiting vineyards around the world and tasting more than 60,000 wines along the way, is innovating once again. Named the world's best sommelier for wines and spirits in France (Sopexa Grand Prix, 1994 Paris), Chartier has been working for more than a decade as a "négociant" (wine merchant), getting even closer to the vines and the terroir. His wines have been offered at the SAQ since 2013. Chartier acquired his experience, in part, thanks to his work with Bordeaux oenologist Pascal Chatonnet. Together, they select, blend, mature and bottle Chartier's wines in Europe.
Since his first Toscana vintage in 2009, Chartier has been fine-tuning his work in the vineyards, in blending and in the cellar. From vintage to vintage, he is continually refining his wine production and adapting his vision by working with winemakers who share with him their precious ancestral know-how.
To highlight this maturity in the vineyard and the cellar, Chartier has changed the look of the "New Chartier 2.0 Wines". The first bottles to reflect this evolution have new labels faithful to the spirit of each terroir chosen by Chartier. They have been available at the SAQ since April 2016, the first being Le Rosé Chartier 2015 Pays d'Oc PGI bottled in France, at Pic Saint-Loup.
Since 2016, the SAQ offers the new Chartier Fronsac, Côtes-du-Rhône and Blanc Pays d'Oc PGI vintages. These wines reflect the evolution of work in the vineyard and cellar with the help of Chartier's winegrower-winemaker friends. In the fall of 2016, new wines from Tuscany (Toscana Rosso) and Spain – Ribera del Duero and Verdejo de Rueda – were added as part of the new range of seven Chartier wines offered at the SAQ.
Finally, let's not forget wine merchant-wine producer François Chartier's "Créateur d'harmonies" first selection of seven European wines offered to Quebecers in 2013. Sold at the SAQ, this first line was developed "by and for" the pleasures of the table to facilitate wine and food pairings. The labels for this first line of wines illustrate foods that match the aromatic family behind each cru, as well as providing the keys to cooking and successful pairings.
"In the history of wine, Chartier says, producers have always proposed harmonies with food once the wine was made. Thanks to my aromatic science and my background in wine and food pairing, I have been able to make wines with a specific cuisine in mind before the wine is blended. To do this, I have selected, blended, matured and bottled wines that share the same aromatic profile as a wide range of foods. Each wine will create perfect harmony with these food families and make pairing at the table easier for everyone." Because his approach is to create wines inspired by the table and selected for the table, Chartier has chosen to make ready-to-drink wines with an easy-to-drink profile, even if all of them have good potential for bottle aging. That way, dining pleasure is guaranteed, as is the specificity of the soils, climates, vintages and grape varieties. Chartier offers authentic wines that reflect their appellations. After travelling the world's vineyards for 35 years, Chartier decided to create his own selection of wines. Two of his lines of wine are available at the SAQ and another at IGA supermarkets.
Chartier also blends exclusive private imports for the Château Frontenac Hotel, and a fifth line is coming soon, the result of an exclusive new project. The créateur d'harmonies has chosen to make his wine blends with various small, renowned artisanal winemakers for each of his lines. To do this, he has called on the services of world-renown oenologist-consultant Pascal Chatonnet from Bordeaux. Pascal Chatonnet has already collaborated with Chartier on his best-selling book Papilles et Molécules. The book won Best Cookbook in the World in the Innovation category at the 2010 Paris Gourmand World Cookbook Awards, and its foreign rights have been sold in several countries.
Chartier wines are sold in Quebec and Spain and will soon be available in Japan.
THE CHARTIER'S WINES ARE MORE THAN EVER A REFLECTION OF THEIR RESPECTIVE TERROIRS AND OF CHARTIER'S PASSION AS A WINE PRODUCER-WINE MERCHANT.
The Chartier's wines in the media
Wine Spectator, Harvey Steiman (September 2013): "Where no wine has gone before ! "
Robert M Parker JR, The Wine Advocate, (Autumn 2013): "Chartier; a pure genius!"
ToutSurLeVin.com: « Chartier; a 3-dimensional winemaker » Read
Le Devoir, Jean Aubry (September 2013): "Chartier: non-negotiable on quality!" "These are quality wines. And the pairings work. Above all, you can sense the origin of the product, its "typicality", but also a savoir-faire by Bordeaux oenologist Pascal Chatonnet."
Le Blanc de Chartier 2012 Pays d'Oc PGI, France: "This dry white is a nice surprise, with nuance and finesse. Clean, precise, floral and lemony flavours, with just the right amount of volume and personality." ★★★ Toscana de Chartier 2009 Italy: "Tasted blind with Umberto Cesari's Sangiovese Riserva, this Sangiovese-Merlot-Cabernet blend came out on top served with pastas with tomato and basil sauce. Part of its evolution details aromas and flavours, with a melting of texture and something tender and sexy that quickly charms." ★★★
Fronsac de Chartier 2010 France: (…) "…good wine. Colourful, compact, clean, but with a hint of austerity, the wine has body, vigour, ripe tannins, graininess, creating a whole that just wants to blend." ★★★ Côtes-du-Rhône de Chartier 2012 France: "The Grenache holds the upper hand with a lot of expression on a supple, flowing, very early-ripening ensemble, but not lacking in substance along the way." ★★1/2
Alain Lebel, Magazine Bacchus – 90 points and "a favourite" – (Fronsac Chartier 2012) "A brilliant and original success! After rating more than 50 Bordeaux wines under the $ 20 mark, this one tops the list! A new design that's a pleasure to see and a wine that offers exceptional value for money!"
Bill Zacharkiw, The Montreal Gazette & ChacunSonVin.Com – 89 points – (Fronsac Chartier 2012) "$ 18-$ 23 Mid-priced marvel: Richly textured. Black plums, spices on the nose. Fills out nicely in the mid-palate only to be tightened up on the finish. Oak is nicely integrated, tannins are ripe and round, but hold the wine together nicely. At under $ 20, one of the top Bordeaux at the SAQ." 
Nadia Fournier, ChacunSonVin.Com – 89 points – (Fronsac Chartier 2012) "Quite typical of its appellation. Generous, with the roundness characteristic of Merlot; fruit and concentration noteworthy in the context of the vintage. A small proportion of Cabernet (equal parts Franc and Sauvignon) provides tannin structure and an austere finish, adding to its dimension."
Marc Chapleau, ChacunSonVin.Com – 88 points – (Fronsac Chartier 2012) "Solid Fronsac, surprisingly full-bodied for the vintage, with density, a certain evolution, a pleasantly tannic character. The 2012 Chartier Fronsac made me want to hug our François, that's saying something! Good Bordeaux."
Alain Lebel, Bacchus Magazine – 88 points and "a favourite" (Le Blanc 2014 Pays d'Oc IGP, Chartier, France) "Here we have a more accomplished and precise white wine which offers us an olfactory trail that couldn't be more inviting. Very expressive, the wine develops an aromatic weave evoking coconut, peach, honey and apricot. Beautifully fatty in the mouth, with amplitude, richness and superb freshness brought by the acidity and an interesting mineral touch."
Bill Zacharkiw, ChacunSonVin.Com – 89 points – (Le Blanc 2014 Pays d'Oc IGP, Chartier, France) "That's pretty good. Plays along melon and apple notes. Rich texture with a spicy, leesy finish that doesn't get sticky. Has admirable length as well. Authentic and interesting." 
Nadia Fournier, ChacunSonVin.Com – 89 points – (Le Blanc 2014 Pays d'Oc IGP, Chartier, France) "A pretty texture, fat, a fine bitterness that highlights the taste of white fruits and a mineral thread that contributes to its thirst-quenching character. Good length for the price."
Marc Chapleau, ChacunSonVin.Com – 88 points – (Le Blanc 2014 Pays d'Oc IGP, Chartier, France) "Very good white Languedoc, quite full-bodied, quite dry too, not very aromatic, really not sensationalist…"
Alain Lebel, Les Fidèles de Bacchus Magazine (April 2, 2016) "I still have a lot of rosé wines to evaluate, but this one (2015) is so far a serious candidate for the rosé of the year! The evolution of François Chartier's wines, both in terms of container and content, is very impressive. I'll tell you more about it soon. Chartier, Le Rosé 2015 (12253099) Price: $ 19.00" 
Salut Bonjour! and Journal 24H, Philippe Lapeyrie: "Les vins Chartier are easy to drink, expressive, aromatic and very representative of their production regions and grape varieties. Wines that will be a hit with wine and food pairings. (…) His Languedoc white is pure, oily, without frills! The red Côtes du Rhône is bursting with fruit, and the percentage of Syrah in the blend is a delight. I love it! The red Fronsac, from the superb 2010 Bordeaux vintage, has a particularly good typicality of Merlot wines from Bordeaux's right bank. The Tuscan red, made of Sangiovese, Cabernet and Merlot, is unequivocally my favourite!"
La Presse +, Karyne Duplessis-Piché (September 2013): "The sommelier wanted to create wines representative of their appellation: a Merlot from Fronsac in Bordeaux, a white from the South of France aged in oak barrels, a typical blend from the Côtes du Rhône and a Sangiovese from Tuscany. That's not the only thing his wines have in common. All of them have a refreshing acidity and are not characterized by excessive aging in wood."
Le Blanc, Pays d'Oc PGI 2012, $ 18.95: "Can't wait for the return of the lobster season to serve this white with the delicious shellfish! In the glass, it is fragrant, with peach accents. On the palate, it is round, almost strong and powerful. (…) Simply put: it's good!"
Fronsac 2010, $ 19.95: "This Merlot-based wine is, in my opinion, the best of the Chartier reds. Made from an exceptional harvest in Bordeaux, the wine is tasty, with notes of blackcurrant, earth and pepper. (…). Well done!"
Journal Voir, Nick Hamilton (November 2013): "Thoughtful wines(…) Chartier offers very good, thoughtful, medium-bodied and perfectly harmonious wines(…)" 
Casa TV, Jessica Harnois (October 2013): "It's done, François Chartier has reinvented himself once again. This man, so talented, never ceases to amaze me with his creative and, let's face it, daring side!"
Gault & Millau Magazine, Christophe Casazza (October 2013): "The French magazine Gault & Millau praises the range of Chartier wines. 
Clin d'oeil Magazine (October 2013): "The Chartier wine selections make the list of 40 things not to be missed at the start of the cultural season."
Elle Québec Magazine (October 2013): "François Chartier, Quebec's most famous sommelier, is launching 4 wines specially designed for our favourite dishes. Now it's our turn for hassle-free meals! 
Véro Magazine (October 2013): "After having revolutionized the aromatic families with his book Papilles et Molécules, the sommelier François Chartier launches a new line of 4 excellent wines!"
Décormag Magazine (October 2013): "François Chartier, famous Quebec sommelier, launches his own range of wines: four crus from France and Italy allowing the most beautiful food and wine harmonies."