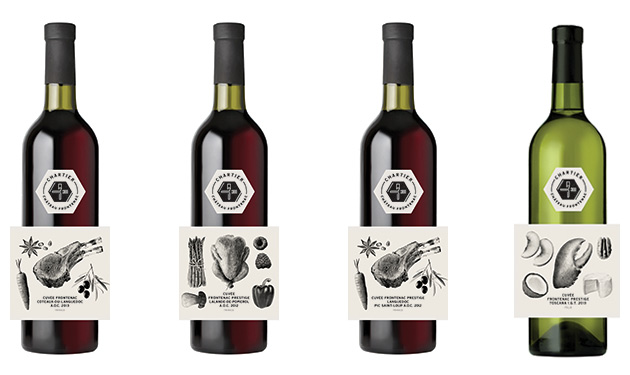 FAIRMONT
LE CHÂTEAU FRONTENAC WINES
After creating his Cuvée Chartier and Vins Harmonies lines, François Chartier has come up with an exclusive selection of four wines for the prestigious Quebec City hotel Fairmont Le Château Frontenac.
A First
Wines have never been produced based on a restaurant's cuisine before. This unique process was undertaken by François Chartier with the complicity of chef Stéphane Modat, who is responsible for three of the Château Frontenac's restaurants, namely le Champlain, Bistro Le Sam and Le 1608 Wine & Cheese Bar.
Valued partners
These four exclusive vintages have been elaborated with three of François Chartier's winemaking partners: Cuvée Frontenac 2013 Coteaux-du-Languedoc and Cuvée Frontenac Prestige 2012 Pic Saint-Loup Languedoc with the Mezy family, from Clos des Augustins; Vermentino Cuvée Frontenac 2013 with the Moretti family, from Petra Wines, in Tuscany; and Cuvée Frontenac Prestige 2012 Lalande-de-Pomerol with Pascal Chatonnet, from Château Haut-Chaigneau. Pascal Chatonnet is also the consultant oenologist for all of Chartier's wine projects.
Four wines and a beer
In addition to these four prestigious vintages, we should note that François Chartier has designed another project with the landmark Quebec City hotel, developing an exclusive gourmet beer with the Montreal microbrewery Glutenberg: the Cuvée Chartier/Glutenberg du Château Frontenac.