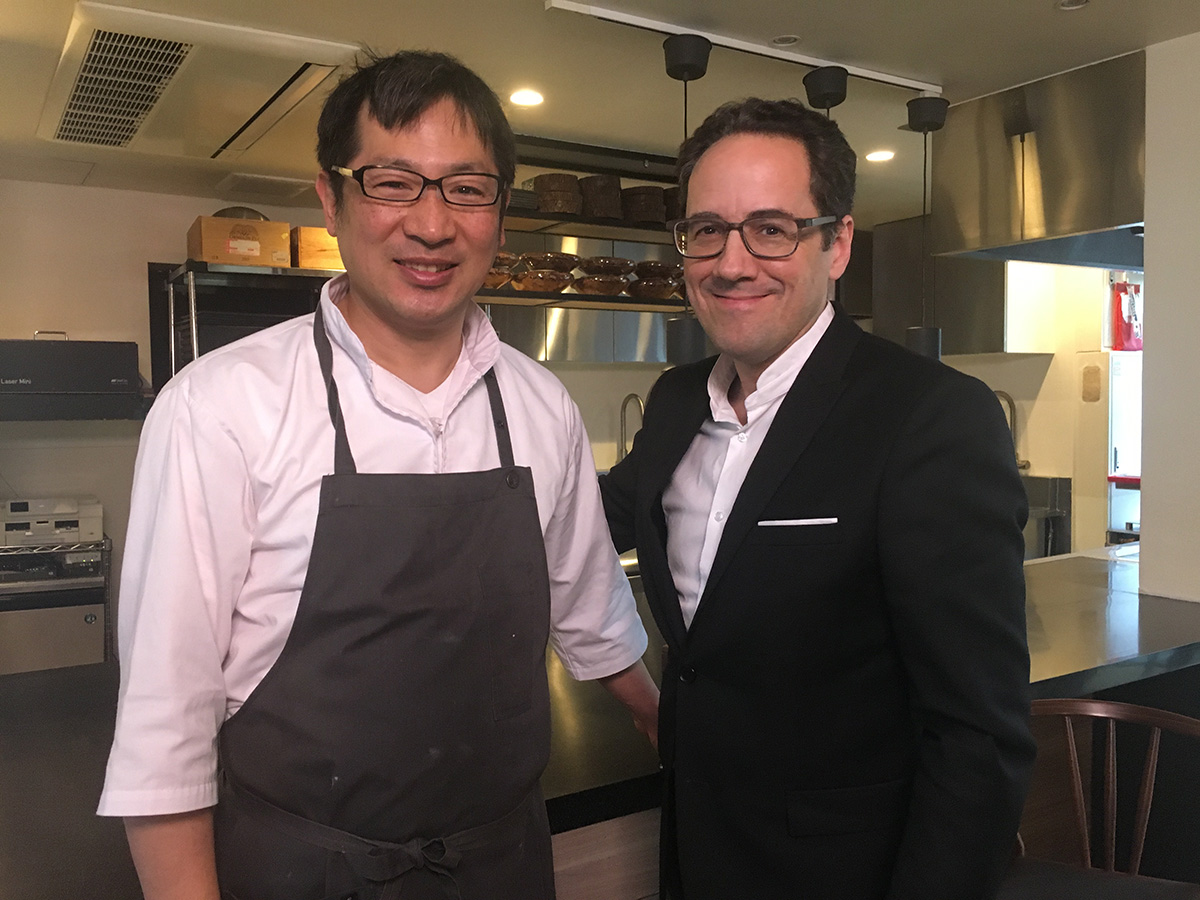 FRANCOIS CHARTIER INVITED TO INVENT THE CUISINE OF THE FUTURE
Based in Barcelona since 2016, Quebec-born François Chartier has been on an aromatic quest since the late 1980s. His goal is to understand the impact of aromas in our daily lives, more specifically in gastronomy, wine, and various beverages. Chartier's background is unique and brilliant: he is at once a sommelier, cook, columnist, author, researcher, consultant, trainer, and lecturer.
"A Renaissance Man": https://magazine.somm360.com/pure-creativity 
Since January 2019, François Chartier has been an advisor to the research committee of Sony's new project SONY AI: Artificial Intelligence & Gastronomy, in Tokyo. SONY Music Solution has been Chartier's business development agent in Japan since 2018. They also represented starred chef Joël Robuchon in Japan for more than 25 years. Sony Music's presence in the world of gastronomy is, therefore, not a first!
News of Chartier's collaboration with SONY AI in this Artificial Intelligence & Gastronomy project was announced at the first-ever international Science & Cooking Conference held in Barcelona in March 2019. Chartier was on stage to present the broad outlines of this nascent artificial intelligence project as well as his work on aromatic molecular harmonies. Hiroaki Kitano (president and chief executive officer of SONY Computer Science Laboratories and president of SONY AI) was also on stage. (Kitano developed AIBO, the robot, and many others).
"It's just crazy!" exclaims Chartier, who is working on a variety of projects from his home base in Barcelona, where he has chosen to live. He had never imagined that he would one day work with some of Japan's most renowned scientists studying the possible applications of artificial intelligence (AI) in gastronomy. Chartier has a mandate to apply the science of molecular harmonies that he created in 2004, summarized in his reference book Papilles et Molécules (Taste Buds and Molecules, also available in English).
"It's a project that encompasses several initiatives," summarizes François Chartier. "It is a question of envisioning how to think about the food of tomorrow in the context of an ageing population when cooking and food have become a significant and central theme in our lives. Today, millennials are defined more by their cuisine than by their clothing or their work, which shows how important it is! With the advent of Covid-19, our relationship with our daily food is changing and needs to be redefined."
"Artificial intelligence, the new secret ingredient of gastronomy":
https://retina.elpais.com/retina/2020/01/13/innovacion/1578916854_578078.html 
Sony AI is already working on the future of "Robotics Cooking" and Artificial Intelligence. In April 2018, they announced a partnership with Carnegie Mellon University to explore the potential for improved food preparation, cooking and delivery, and the creation of a new robot.
The possible outcome was previewed by SONY in a somewhat surreal video, in which François Chartier participated. It shows robotic arms in a futuristic kitchen assisting a family in preparing a meal and serving high gastronomy food to a couple eating at a restaurant. https://www.sony.net/brand/stories/en/our/products_services/cooking/ 
François Chartier is still unsure where all this will lead. But as an honorary member of SONY's AI laboratory, he can evaluate to what extent and how his aromatic science of molecular harmonies can contribute to further propel artificial intelligence applied to gastronomy.
Chartier is convinced that AI has indeed the potential to take his aromatic science to another level. He sees the potential for building a database of all aromatic molecules and recipes from the world's cuisines, which will undoubtedly be a golden opportunity to go further and open new gastronomic paths, especially in the post-Covid-19 era.
Chartier's combined science and expertise in culinary creation could help humanize the use of artificial intelligence in the kitchen and dining room. "AI has no emotions. It can think, but with direction, generating answers. But it does not have the passion that a cook has for his food." In an interview with La Presse+ in 2019, Chartier confided that his expertise could add a little love and emotion, to bring what human beings can feel into the equation.
https://plus.lapresse.ca/screens/074578fa-fd1c-4716-b6a3-c5855cf49c9f__7C___0.html 
SONY AI in Tokyo has asked François Chartier to apply his aromatic science of molecular harmonies to its new Artificial Intelligence & Gastronomy project.
The first recipe created using A.I. or how to increase culinary creativity tenfold.
The world's first recipe created with the help of Artificial Intelligence