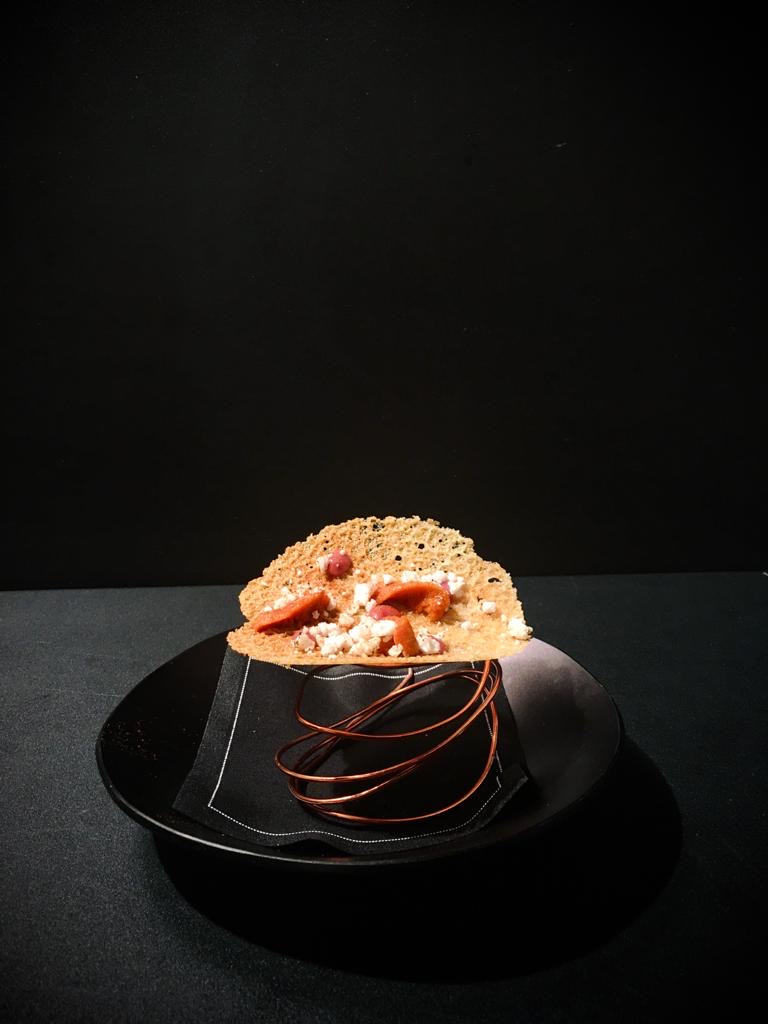 THE FIRST RECIPE CREATED WITH THE HELP OF ARTIFICIAL INTELLIGENCE OR HOW TO MULTIPLY CULINARY CREATIVITY TENFOLD
In collaboration with Chef Romain Fornell of Caelis 1*, Barcelona, during the Madrid Fusión conference in Madrid.
A tireless innovator, François Chartier with the SONY AI Gastronomy team, pioneered the use of artificial intelligence (A.I.) for the benefit of gastronomy. This approach was inspired by his collaboration with the SONY A.I. AND GASTRONOMY Research Committee set up by a team of scientists from Sony Corporation in Tokyo, where he sits since January 2019 on the research committee as a main consultant. He presented with SONY AI researchers, this approach on January 14, 2020, in front of more than 1000 chefs from everywhere in the world at Madrid Fusión, the leading culinary trade event for innovation.
François Chartier began his presentation by explaining how SONY has allowed many artists to give free rein to their creativity and imagination since its foundation, whether they are musicians, visual artists, film producers or video game creators. Now, the company is putting its technological knowledge at the service of gastronomy, with François Chartier's help, by creating SONY AI division in 2019. SONY AI expert Michael Spranger puts the colossal work undertaken with François Chartier on this project into context: "For a whole year, we took the A.I. tools we use for music and combined them with François' knowledge of gastronomy to create a system that would facilitate the creation of recipes, FOR BOTH PROFESSIONAL AND AMATEUR CHEFS."
Nourishing A.I. with human knowledge
But to do this, the A.I. software first had to be provided with masses of information. "When chefs create a recipe, they have a wealth of knowledge that allows them to make many associations and to process huge amounts of information in record time," Chartier explained at the conference. That knowledge includes things as diverse as cultural context, technical expertise, and perception, such as texture and taste. It also involves knowing how to prepare a dish, what ingredients are in season, molecular compounds, temperature, colour, and geolocation which allows to identify as many different cuisines of the world as possible. To be effective and to be able to encourage creativity A.I. must, therefore, receive an enormous amount of information of all kinds. SONY and François Chartier began by creating a gigantic collection of data. "The goal is to facilitate your creativity by integrating a multitude of elements," explained the creator of harmonies to the audience of professionals gathered at Madrid Fusión.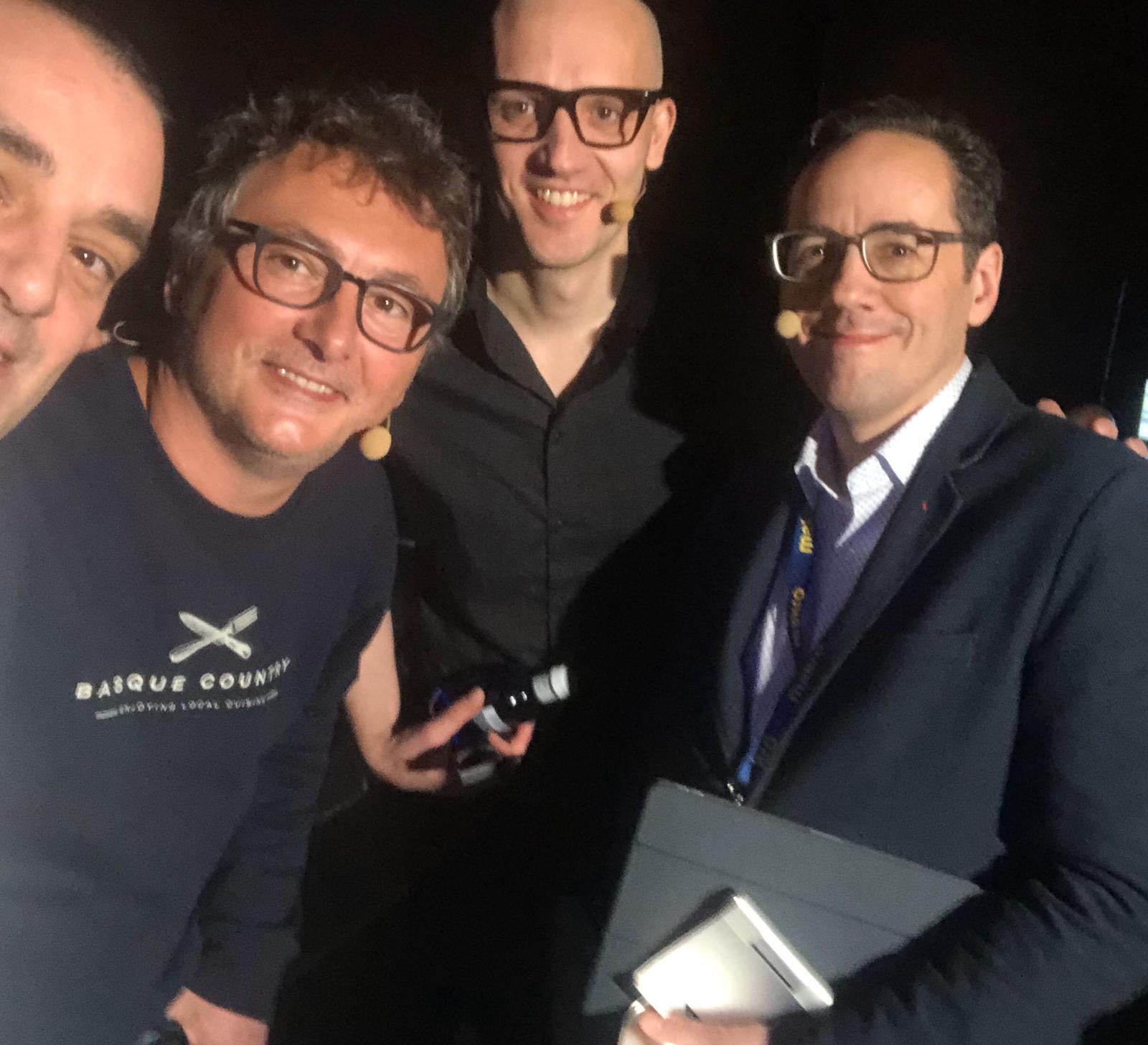 For the team behind this endeavour, it has been a lengthy process, a "work in progress". The audience, made up of chefs, sommeliers and journalists, were eager to see A.I. at the service of culinary creativity in action… The demonstration orchestrated by François Chartier was not long in coming.
Humans at the heart of the project
François Chartier's goal during the demonstration was to create a dialogue with Artificial Intelligence (A.I.) by demonstrating how he could interact with the machine to develop a completely original recipe idea. He insisted from the beginning of the demonstration: "Make no mistake, without a creator guiding the artificial intelligence, the recipe does not exist." 
The initial concept for our tireless researcher was simple: pretend we are in Japan creating a soy sauce-based dish. But, during the dialogue established with A.I., the concept evolved to include the use of Cacao Barry's Ruby fermented chocolate, an exceptional new product. Since François Chartier didn't want to use the chocolate in a dessert and also requested a crunchy texture for his creation, A.I. suggested some new solutions: instead of working with the original proposal (maple syrup, Sichuan pepper, curry), it proposed using roasted asparagus, coffee and roasted chili peppers. But François Chartier also wanted to give A.I. an extra challenge: he wanted his dish to have a different, crunchy texture. A.I. quickly adapted and offered him a third option: dehydrated cauliflower like couscous that would be roasted, nori seaweed and sea urchin to accompany the Ruby chocolate; new ingredients for a new kind of dish! As you can see, the creator was in constant interaction with the machine, which, in turn, offered him distinct tastes and cultural paths for his dish.
Local, seasonal, eco-friendly
But the experiment didn't stop there. A.I. factored in the use of local ingredients as an essential approach for cooks around the world. It respects the work of producers from a specific region, the environment and the seasonal nature of the products by using short supply chains. Consequently, at the conference held in Madrid, it proposed replacing French camembert intended initially for the recipe by the A.I. system with Catalan Tou del Tillers cheese, and Sichuan pepper with pimenton, a Spanish smoke-dried sweet pepper powder.
Room for the chef's inspiration
François Chartier then introduced his friend Romain Fornell, from the Michelin-starred Caelis restaurant in Barcelona. He asked him to create tapas that combined the ingredients chosen while working with A.I., but without imposing directives that might curb the chef's creativity.
The result was spectacular and unique: a Tou Del Tillers cheese tuile with roasted cauliflower crumble, Cacao Barry Ruby chocolate, nori seaweed purée and a sea urchin purée flavoured with pimenton.
Was the result a sea urchin dessert or a chocolate tapas hors-d'oeuvre? What is essential is that A.I., combined with François Chartier's ideas and chef Romain Fornell's creativity, presented a promising avenue of culinary research. It allowed for the creation of a dish brimming with new flavours and textures that are perfectly combined, thanks to a constant dialogue between man and machine. Not to mention that one of the directives Chartier had given to the A.I. system was that the food should also be on the aromatic trail of Junmai-type sake. The perfect harmony was achieved on stage, with the all-new Tanaka 1789 X Chartier sake, Blend 001, Junmai Nama zume 2018, born of Chartier's new collaboration with the ancestral Tanaka 1789 brewery – to be launched worldwide in 2020.
François Chartier ended his presentation with a provocative question for his audience: "Will artificial intelligence be the next ingredient in gastronomy? Who knows?"
Links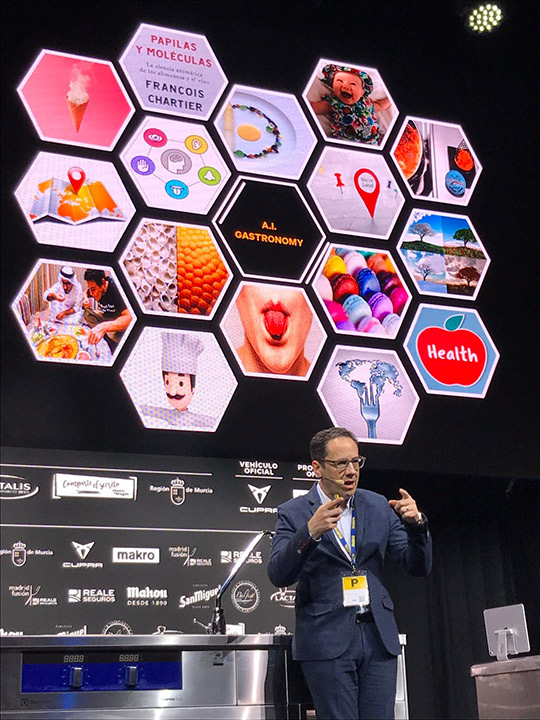 In June 2008, François Chartier was invited by the two partners of the legendary Catalan restaurant elBulli, Ferran Adrià and the late Juli Soler, to lead a private masterclass and share his aromatic science of molecular harmonies. Designed for the entire kitchen and dining room team of elBulli (crowned Best Restaurant in the World five times), this marks the beginning of an intimate collaboration with this Mecca of world gastronomic creativity.
Chartier's aromatic science has been called on to help prepare the 20th anniversary menu of the Mugaritz restaurant. With its hugely talented chef Andoni Luis Aduriz, Mugaritz ranks seventh in the 2019 "World 50 Best Restaurants".
To mark the 10th anniversary of Barcelona's Michelin-starred restaurant Dos Palillos, Albert Raurich and the sommelier Tamae Imachi, co-owners of this creative restaurant, has decided to create a series of 12 special gastronomic events and invite his friends each month to cook a meal with him at his establishment, including François Chartier. Albert Raurich therefore tasked Chartier with developing a menu inspired by his science of molecular harmonies, thereby celebrating the 30-year aromatic career of the Quebec "Créateur d'harmonies".