DAMM
The great Barcelona brewery Damm is taking advantage of François Chartier's expertise to broaden the range of its gourmet beers. After Chef Ferran Adrià and his Inedit, the "creator of harmonies" takes up the challenge with brio by elaborating a new beer designed and brewed for new and unique gastronomic experiences. Let us bet that a new brewing revolution is underway once again, thanks to the aromatic science of the Quebec creator.
Damm recently asked François Chartier to create a gastronomic beer. The Damm Brewery was founded in Barcelona in 1876 and created the first Mediterranean-style lager (with a lighter style than Nordic beers). It is one of the most important companies in Spain and now makes more than twenty different styles of beer. It also produces bottled water and several other beverages.
As early as 2008, Damm collaborated with chef Ferran Adrià, from the famous elBulli restaurant, to produce an exceptional beer. The result, L'Inedit, is now distributed in more than 90 countries. Its great success showed the Spanish brewer that there are still new avenues to explore when it comes to producing gourmet beers.
Chartier's aromatic universe at the service of a unique beer
Damm's put all its resources at François Chartier's disposal for the elaboration of a signature gastronomic beer. Our aroma expert chose to create a beer that could go just as well with a Peruvian fish ceviche as with a squab breast with demi-glace jus emulsified with dark chocolate. Chartier therefore wants to elaborate a beer of great versatility, by taking different aromatic paths of creativity, an approach that would appeal both to gourmet purists and the most hardened oenophiles!
A new type of beer…
Putting his molecular science at the service of the brewer, the "creator of harmonies" achieves this feat by taking as a starting point a beer of a well-known classic type (to be unveiled at the launch, scheduled for mid-October 2020), increasing, magnifying and multiplying it with his science of molecular harmonies. We can understand the logic of this approach since the type of beer on which François Chartier has built this new creation has several very obvious dominant molecules. Our flavour expert chooses three of them in order to develop the aromatic complexity of this gastronomic cuvée, and to give it a Mediterranean profile (with ingredients available in Spain and typical of the Mediterranean basin). The final result is a gastronomic beer of great aromatic complexity.
Come back to this news in mid-October, when the aromatic and gastronomic trails of this great beer will be unveiled.
A source of inspiration for Damm
François Chartier's science and expertise have been a great inspiration for the company. The brewery hopes to renew this collaborative experience by opening new possibilities, whether for the creation, marketing (ingredient scheme, promotion of the natural synergy between beer and food), commercialization or communication of its beer.
The collaboration between Damm and François Chartier in creating a classic beer that is both gastronomic and distinctive will be presented in a world premiere in Barcelona in October 2020.
Links: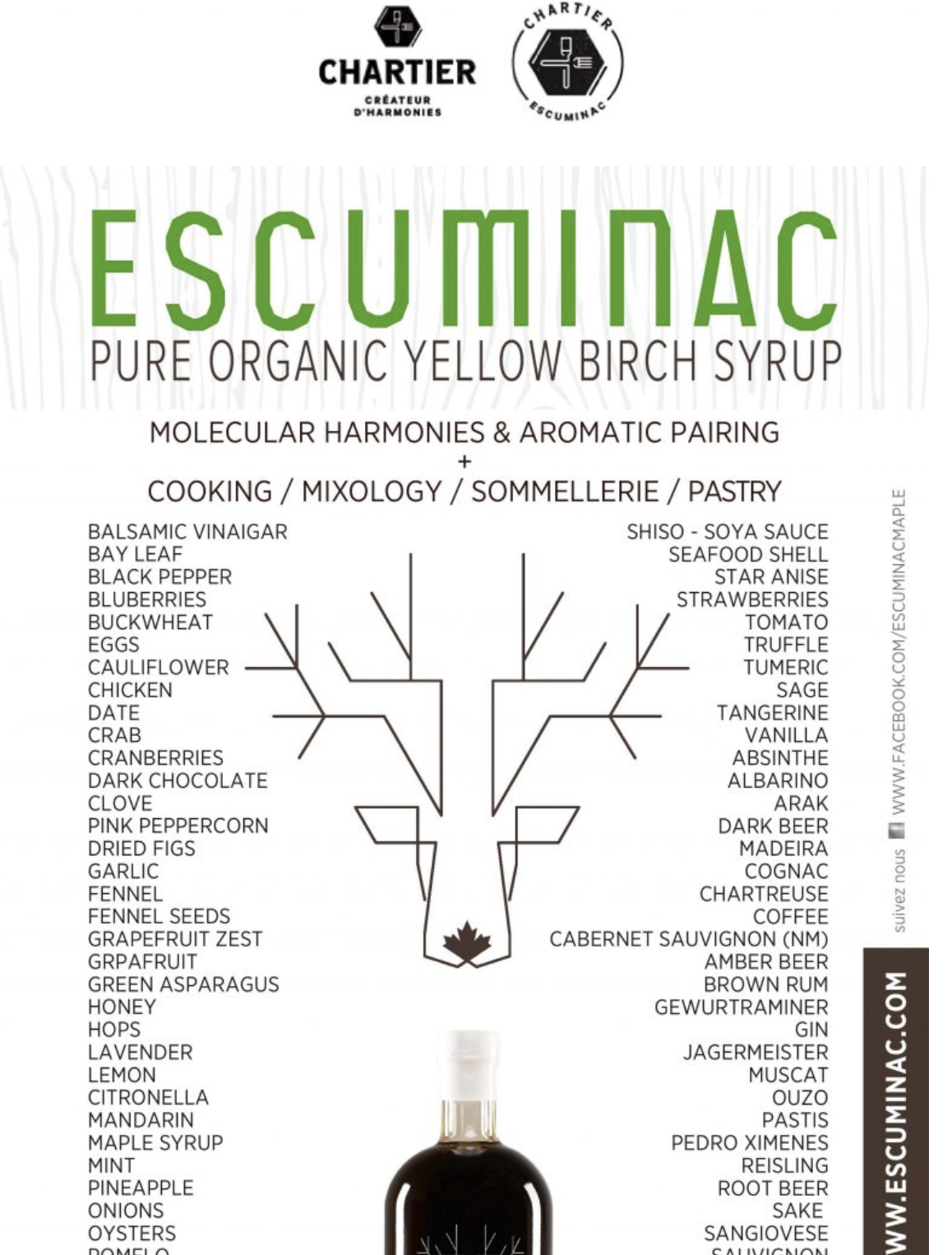 ESCUMINAC : MAPLE AND YELLOW BIRCH SYRUPS EXAMINED THROUGH CHARTIER'S "SCANNER"
The "créateur d'harmonies" François Chartier enjoys working with the best food producers to help them find the different aromatic harmonies with their specialties. Here, he shares his research approach developed with Érablière Escuminac, a fine Quebec maple grove.
Érablière Escuminac was among the first companies to put their trust in the "créateur d'harmonies" François Chartier and in the science of molecular harmonies that he has been developing since 2002. An honour for Chartier, since the maple syrup of this Quebec company, which works under organic management, is of such high quality that it has become a favourite among great chefs around the world. Érablière Escuminac also produces a remarkable pure organic yellow birch syrup that has won numerous awards. A rare product, highly prized by professional chefs, among others.
In 2015, Chartier was given the mandate to scientifically analyze the two flagship products of Érablière Escuminac in order to establish an aromatic map of the complementary ingredients and beverages that share the same dominant aromatic molecules as these two exceptional syrups. Chefs and mixologists from around the world, especially from Canada and Europe, have since been able to take advantage of these new creative tools using these two syrups to their full potential in their recipes. 
Two grand crus
Escuminac maple syrup is both extra-fine and very rich, and its aromatic profile is reminiscent of butter-heated brown sugar, date purée, English toffee and green anise, with a subtle hint of curry. It is dense, full, textured, full-bodied, syrupy, but not excessively long on the palate. In short, a grand cru! It is perfect for creating spicy recipes and cocktails based on barrel-aged brandies (bourbon, cognac, scotch). In the kitchen, the possibilities are numerous. Marry it with soy sauce, curry powder, huitlacoche, wild rice, lovage, celery salt, roasted chicory, coffee, tonka bean, vanilla, black licorice, nigori sake, kirsch, roasted fenugreek seeds and Candy cap or Chaga mushrooms, among others.
As for the award-winning Escuminac pure organic yellow birch syrup, which comes from a unique forest and is traceable from tree to plate, it is also a high-end product that is marked by many dominant aromatic compounds, including furans, methyl salicylate, octanal and vanillin. It has a certain aromatic similarity with balsamic vinegar, but that is where the comparison ends. The syrup generates its own unique identity, which results in a noble product, with an amazingly complex aromatic DNA. Thus, this yellow birch syrup can be used to prepare a wide range of foods, ingredients and liquids that share the same dominant aromatic compounds. These compounds are the result of research in the science of aromatic harmonies and sommellerie that François Chartier has been conducting since 2002.
Discover the results of Chartier's molecular harmonies research on these two exceptional syrups:
Restaurant Sofia Be So
François Chartier reinvents the experience of choosing the right wine to match a meal and transforms it into a unique moment of pleasure. To be discovered at the gastronomic Be So restaurant at the Sofia Hotel in Barcelona.
Sofia Be So
The Be So restaurant (2 Michelin stars) is located at Hotel Sofia, a 5-star establishment in Barcelona. In January 2017, the hotel's restaurant manager and chef contacted François Chartier (newly installed in the city of Gaudí) to ask him to create their wine list.
The hotel was closed for renovations at the time, with millions of euros being invested in the establishment to make it even more luxurious and modern. At first, François Chartier was hesitant since he had not created a wine list as a sommelier for a long time. But the offer was much more tempting than it seemed. Restaurant director Raimon Serra and chef Carles Tejedor wanted François Chartier to revisit how wines are chosen at the Sofia Be So restaurant. In this way, each customer would be able to enjoy an extraordinary experience when ordering wine or other drinks.
The unique and innovative aspect of the approach, and the fact that the contact was initiated by Ferran Centelles, renowned ElBulli sommelier and François' friend, convinced him to embark in the adventure. It would take three weeks to work out the broad outlines of his project.
Fragrance at the core of the process
François Chartier has been dreaming of creating fragrances for a long time. "The world of fragrances inspires me in my scientific work and in my understanding of the molecules in wine and food," says Chartier. He tapped into the world of fragrances by first creating "a scent list" in the form of a rack containing seven small bottles. Each bottle is associated with a specific scent; this is the Caja aromática (aromatic box).
Partnership with the great perfumer Ramón Monegal
François Chartier explains that using his aromatic science, he first classified wines and other alcoholic and non-alcoholic beverages from around the world into one of these seven categories. He then created mixtures of molecules on paper to achieve the aromas he wanted in each of the seven categories. "Once this stage was completed, I met the great Catalan perfumer Ramón Monegal and asked him to make the blends in his laboratory. We fine-tuned them together, as well as the look of the Caja aromática," says the "créateur d'harmonies". Ramón Monegal has considerable experience in creating original bottles since he designs the bottles that contain his fragrances. His help was, therefore, invaluable in the design of the containers, which are reminiscent of wine amphoras.
Choose your wine by smelling a fragrance
The sommelier suggests that guests at Sofia Be So should first smell each of the seven containers and then determine which scent he or she prefers. Once the aromatic family has been chosen, the list of wines and other beverages, also classified into seven categories, is presented. The customer can then choose between wines, alcoholic and non-alcoholic cocktails, and even teas served in wine glasses from each of the seven categories. This was important for François Chartier, because he and his partners at the restaurant wanted to offer every possible option to guests.
A great success in Spain… offered soon in other countries?
As soon as it opened, the Sofia Be So restaurant won over a broad public as well as the gastronomic and wine press. Although the Barcelona restaurant has the exclusive Spanish rights to the Caja Aromática concept designed by Chartier, similar projects are already being studied elsewhere in the world, including Japan.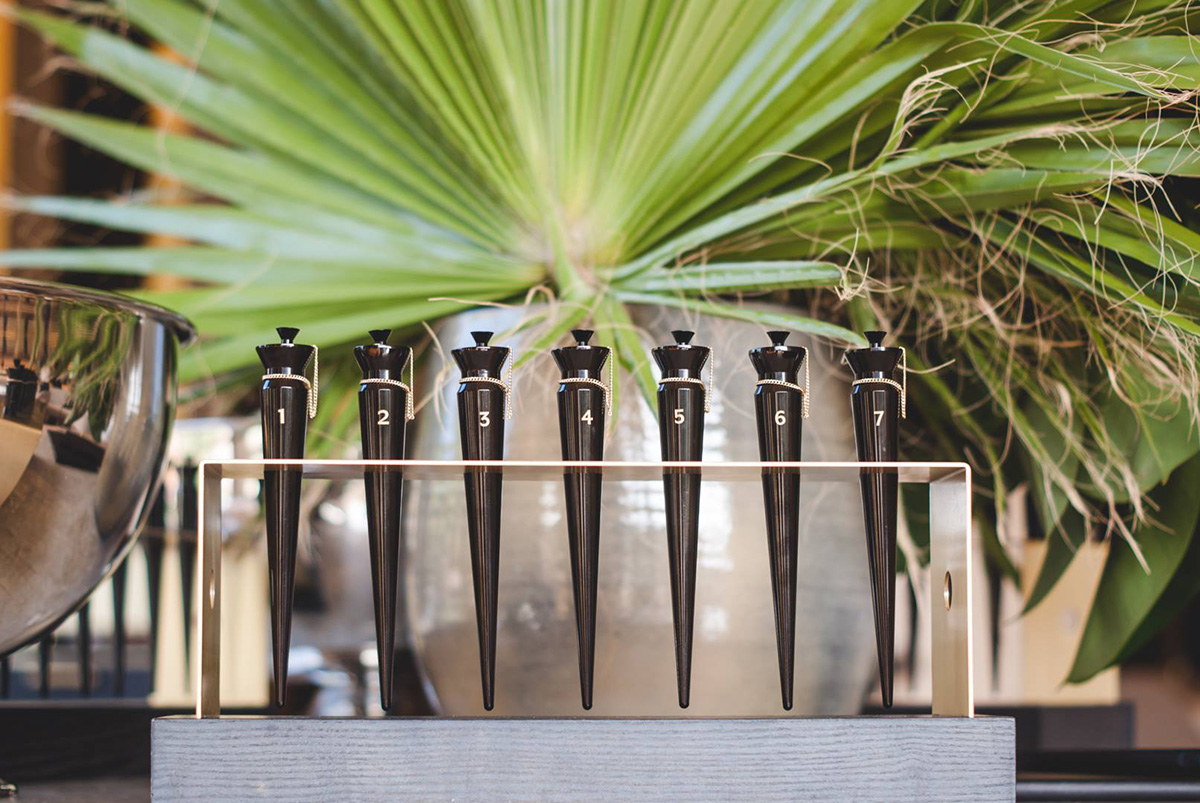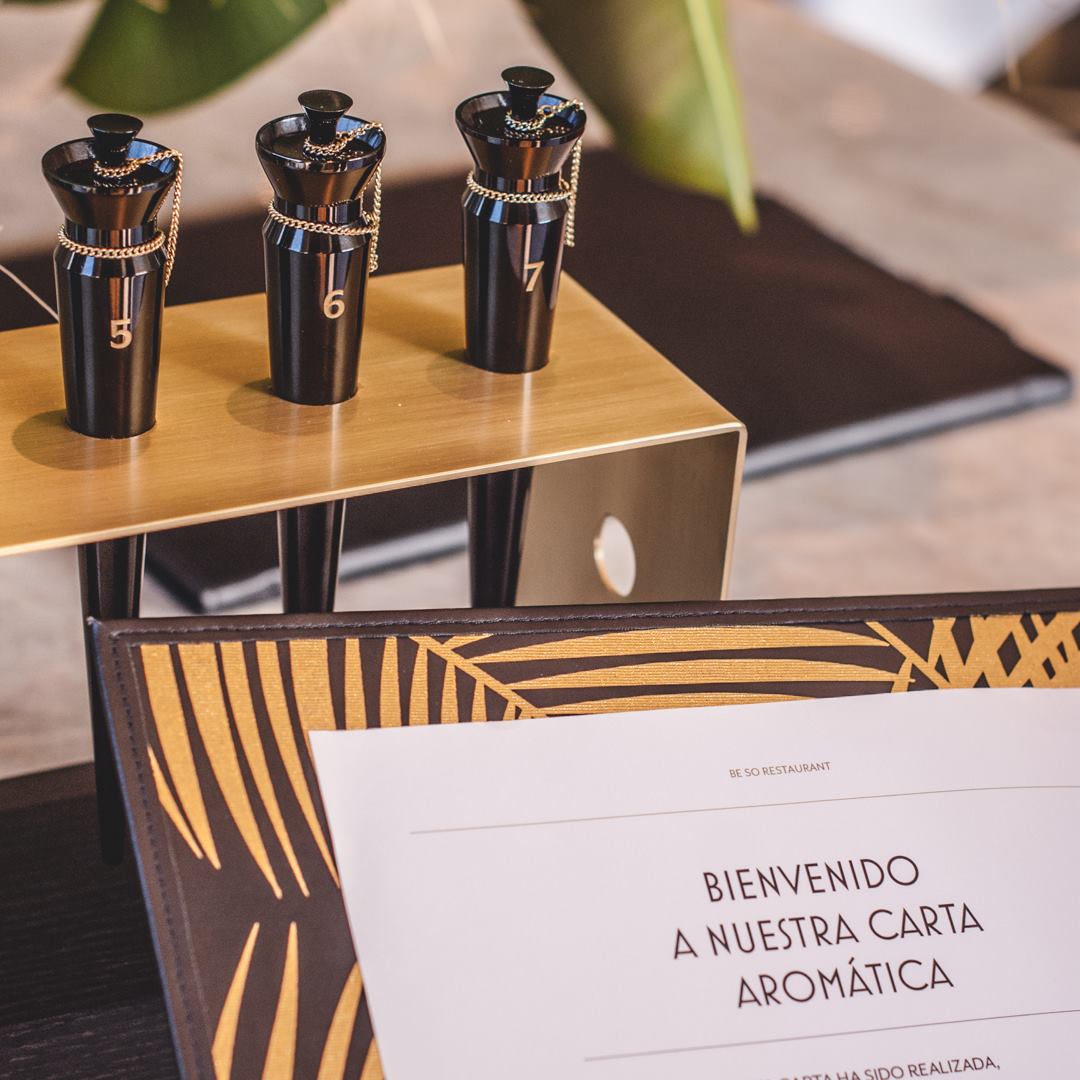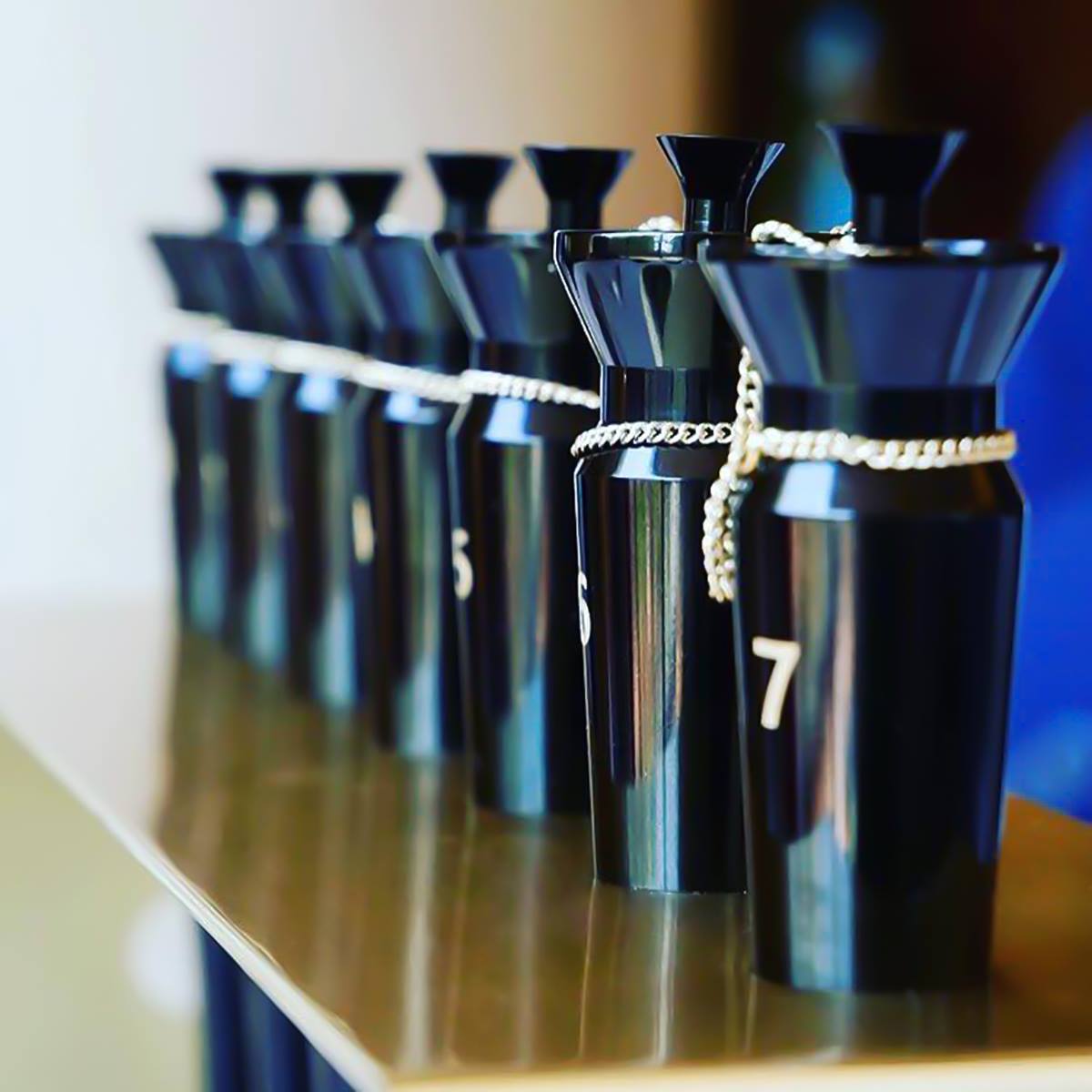 VARDON KENNETT CUVÉE ESPLENDOR
When Miguel A. Torres, patriarch of the influential Torres family, wanted to create a memorable sensory experience for the launch of his first Catalan sparkling wine, Cuvée Vardon Kennett Esplendor, he called upon François Chartier.
A visionary company
Today, the fifth generation is at the helm, with Miguel Torres Maczassek taking over from his father Miguel A. as General Manager in 2012. His sister Mireia Torres Maczassek is responsible for the Jean Leon brand and the Priorat vineyards, in addition to being Technical Director for all Torres production and managing the family foundation. Miguel A. Torres remains Chairman of the Board of Directors and an outstanding ambassador. The company has 1,300 employees around the world, including vineyards in California overseen by Marimar Torres (Miguel A.'s sister) and her daughter Cristina. The company also has a winery in Curicó, Chile, which is managed according to fair trade standards, and several recently acquired vineyards in other parts of Spain (including La Rioja and Ribera del Duero). The family's wines are marketed in 150 countries.
The Torres family is a founding member of the Primum Familiæ Vini (PFV), an association of 12 prestigious winemaker families created in the early 1990s. Other members include the owners of historic wineries and estates such as the Perrin family, Egon Muller, Marchesi Antinori and the Hugel family.
Friendship ties between Chartier and the Torres
The friendship between François Chartier and the Torres family has long been one of mutual admiration. But the ties have intensified since the creation of the Wine & Culinary International Forum, sponsored by Bodegas Torres. The Forum is held every two years in Barcelona. François Chartier has been a regular participant, brilliantly demonstrating the solidity and effectiveness of his aromatic science for food and wine pairings.
Vardon Kennett Cuvée Esplendor
Vardon Kennett was a British explorer who settled in Catalonia in the 19th century and married a local girl, before devoting himself to growing vines and producing wine. It was in his honour that the first great Torres cava was created, presented in a limited edition from grapes grown at an altitude of 500 metres in the Penedès region of Catalonia. The Vardon Kennett Cuvée Esplendor cava was instigated by Miguel A. Torres and his daughter Mireia. The family wanted the wine to reflect the actions they have taken to counter the effects of global warming, a major preoccupation for the patriarch, against which he has fought for years. The grape varieties used to make this cava are grown at higher altitudes, where the temperature is lower. These varieties are Pinot noir, Chardonnay and Xarel-lo. The Vardon Kennett Cuvée Esplendor also undergoes long aging in the cellar, giving it a complex aromatic structure.
Because Miguel A. Torres wanted to showcase the richness of its aromatic palette, he called on François Chartier to provide a unique experience for guests at the launch of the first Cuvée Esplendor.
Matching Esplendor with chocolate
François Chartier quickly came up with the idea of a pairing of high-end chocolates from Cacao Barry, with whom he often collaborates. Chocolate appeals to almost everyone and Cacao Barry offers a wide range of aromatic affinities thanks to its extensive selection of couverture chocolates from a variety of regions.
After analyzing the Vardon Kennett Cuvée Esplendor, different aromatic possibilities appeared to our expert. He decided to explore two of them to create an original Aromatic Chocolate Box: lactones and aniseed compounds. With the help of his friend, Barcelona chocolatier Enric Rovira, François Chartier then designed two unique and refined chocolates to enhance this exceptional cava.
The first was composed of Zéphyr white chocolate, comté cheese (aged 24 months) and apricot, a completely original combination of ingredients. This creation helps increase the volume and the sense of presence of the Vardon Kennett Cuvée Esplendor in the mouth. The second was an Alto el Sol Cacao Barry dark chocolate creation with matcha tea and fresh coriander, designed to enhance the length, aniseed liveliness and bitterness of this uniquely styled sparkling wine.
This is yet another example of the influence and power of aromatic compounds, on which François Chartier bases his impressive science of harmonies between food, wine and other beverages!
D.O. Cava became the first appellation to ask an expert in aromatic science to demonstrate the many possibilities for food pairings with its wines. Another unique experience for François Chartier that allows him to push his research and expertise even further!
A look back two of the "life-changing events" that would propel Montreal-born Barcelona resident François Chartier into the world of elBulli. This unique mecca of culinary creation now embodies a research and innovation centre, invaluable to all great chefs and observers of world gastronomy.
Since 2014, François Chartier has been an aroma consultant for Cacao Barry, the world's foremost cocoa processor and chocolate manufacturer which produces a complete range of high-end couverture chocolates and a host of products for the pastry and chocolate industry. Chartier's collaboration has been even more fruitful since Cacao Barry has established branches of its Chocolate Academy around the world in recent years.