INTO THE GASTRONOMIC VORTEX: HOW AND WHERE THE CREATOR OF HARMONIES WAS SWEPT INTO THE eLBULLI UNIVERSE
MARCH 2008:
First European conference on Chartier's "molecular harmonies."
After spending five weeks of research and harmonic discoveries in 2006 and a further five weeks in the spring of 2007, Chartier returned to Barcelona in March 2008 for additional exploratory meetings with leading chefs and sommeliers. He notably gave the first European lecture on his aromatic science at the Alimentaria food and wine fair (Europe's most important food and wine fair).
It was at the invitation of the Alimentaria organizers that Chartier revealed to European chefs and sommeliers the results of his research into "molecular harmonies," a discipline he created in 2004. Juli Soler, co-owner and "ringleader of the ElBulli circus," had heard of Chartier's work from mutual friends, Spanish winemakers, and recommended he speak at Alimentaria.
More than a hundred sommeliers and chefs attended the 90-minute conference, including Juli Soler and his team of sommeliers and chefs those from the famous elBulli restaurant. A few renowned Spanish wine producers and professional European sommeliers also attended. Chartier was thus able to demonstrate and share his research results for the first time in Europe.
To support his theoretical presentation, he presented exciting practical harmonic combinations, including the harmony between the white Verdejo grape variety (Rueda 2007 Vinos Sanz) and mint (tapas of fresh goat cheese with fresh mint oil, apple and fennel salad); between tannic red wines (Priorat 2005 Ferrer-Bobet) and licorice ( duck with black licorice and blackberry sauce); then, between oxidative wines (12-year-old Oloroso Xérès, Osborne) and ingredients with the molecular signature of "sotolon," such as maple syrup, soy sauce and very old balsamic vinegar (maple-lacquered salmon and black beer, soy-balsamic reduction).
The importance of continuing research
The many questions and the interest aroused by this conference convinced François Chartier of the relevance of pursuing his research in depth. He was invited back to Barcelona in September 2008 to lead further workshops at the invitation of the Fundacío Alícia (www.alicia.cat). The foundation is the only centre for research and scientific studies in gastronomy established to date, founded in partnership with the Catalan government and elBulli.
Thanks to the great generosity of the late Juli Soler (founder and co-owner of elBulli), with whom Chartier quickly developed a friendship, he was able to spend time in the now mythical kitchen-laboratory, located in the heart of Barcelona. During the restaurant's annual six-month closure, the team of chefs were busy reinventing the cuisine and exploring new creative avenues to create the hundred or so dishes that would appear on the menu for the next season, from April 1 to October 1.
The experience gave Chartier a better understanding of elBulli's approach to research and creation, their techniques, and how they work. Just seeing the graphics hung on the kitchen-workshop walls, he fell into the creative vortex of this unique place! The cooperation he developed with the restaurant's sommeliers, including Ferran Centelles, also inspired Chartier towards new harmonic avenues. His research into "molecular harmonies" aroused great curiosity in the team of this illustrious Catalan establishment.
Chartier returned to work and exchange with the elBulli team in September 2008. He was asked to explain his harmonic approach to the group of chefs and sommeliers and took advantage of the opportunity to better understand and taste their cuisine. Our "créateur d'harmonies" was thus be in a better position to "redefine the role of wine at the table with the creative avant-garde cuisine of the 21st century", a project on which he was also working while visiting the creative tables of Europe, Asia, the United States and Quebec.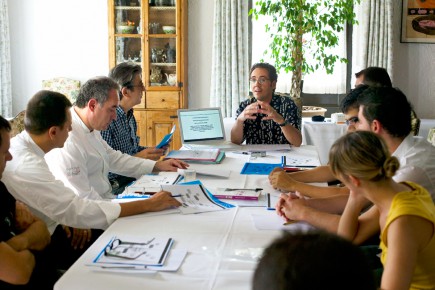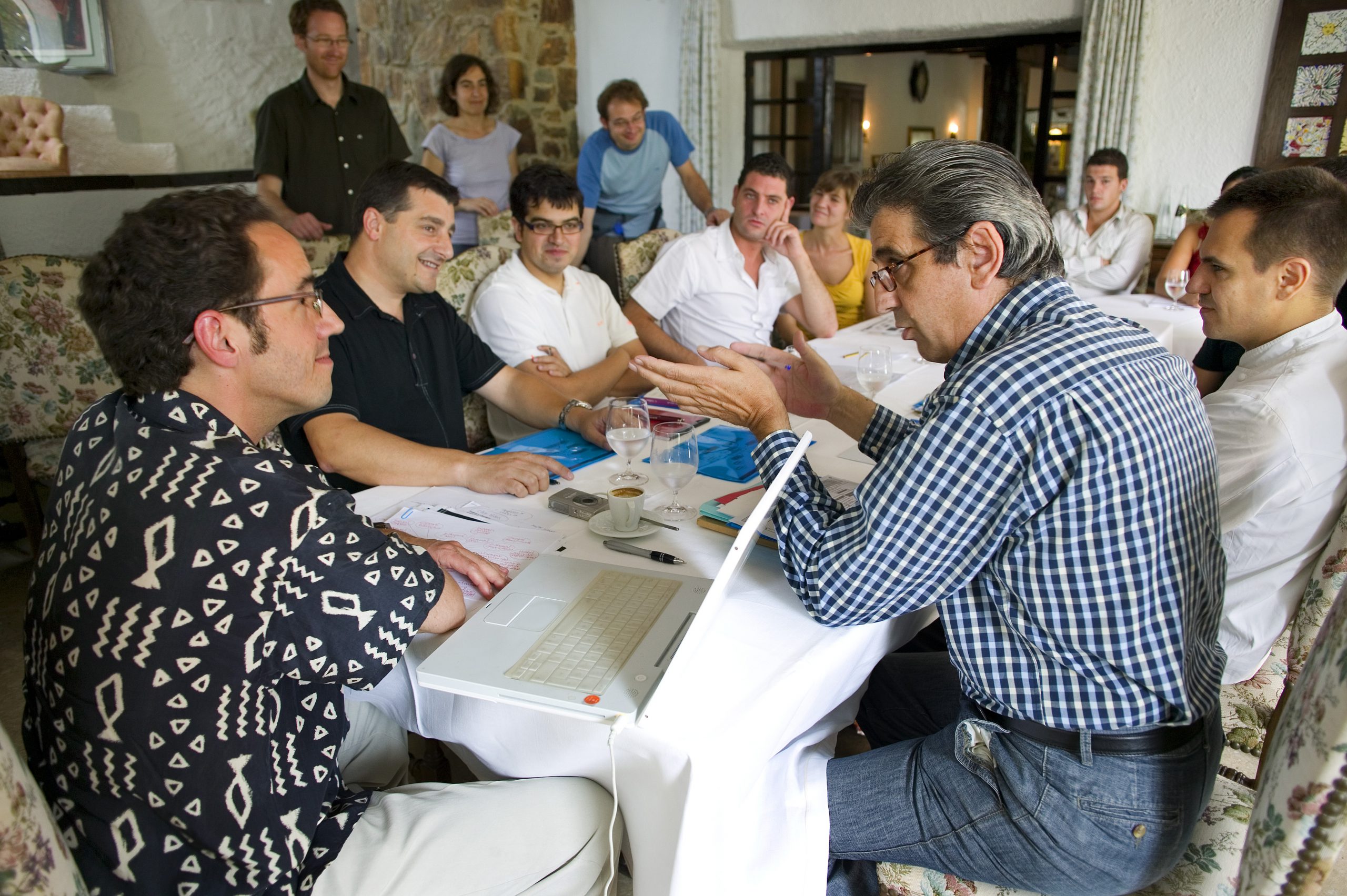 SEPTEMBER 2008:
Chartier's harmonic universe at elBulli
MOLECULAR HARMONIES AND SOMMELLERIE
But let us go back a bit to another important event in Chartier's career. The interest aroused by the lecture he gave in the spring of 2008, as part of the Alimentaria trade fair in Barcelona, quickly brought him back to Catalonia. He gave a workshop at the Alicia Foundation and at the famous elBulli restaurant from August 30 to September 15 of the same year. At the invitation of Juli Soler and Ferran Adrià, co-owner and chef of this leading avant-garde gastronomic venue, the creator of the principle of molecular harmonies presented a workshop highlighting his most recent research results. This time, however, it was not in the Barcelona workshop, but rather in their legendary restaurant in Roses, north of Barcelona.
For the occasion, Juli Soler had assembled his team of chefs, including the three pillars of elBulli's cuisine: the famous chef-creator Ferran Adrià, his brother Albert, master of desserts, and the great chef Oriol Castro (today at the helm of the famous Disfrutar and Compartir restaurants). Also present in this group of some fifteen creators were the chef and explorer of new products, Eduard Xatruch, the two head sommeliers, Ferran Centelles and David Seijas, and the maître d'hôtel along with some of the waiters from the three-star Michelin establishment.
Josep Roca, sommelier of the renowned avant-garde cuisine restaurant El Celler de Can Roca, located in Girona, owned by the three Roca brothers (Joan Roca, the chef, Jordi Roca, the pastry chef, and Josep, the sommelier), was also present for the occasion. During the three-hour workshop, Chartier shared his latest scientific research on certain binding ingredients used to create new recipes and on how to harmonize wine and food, which impressed Josep Roca a lot.
During this workshop given to these fifteen or so brilliant researchers, German filmmaker Gereon Wetzel was also present with his film crew. He wanted to capture the moment when creativity takes shape in a documentary entitled elBulli; Cooking in Progress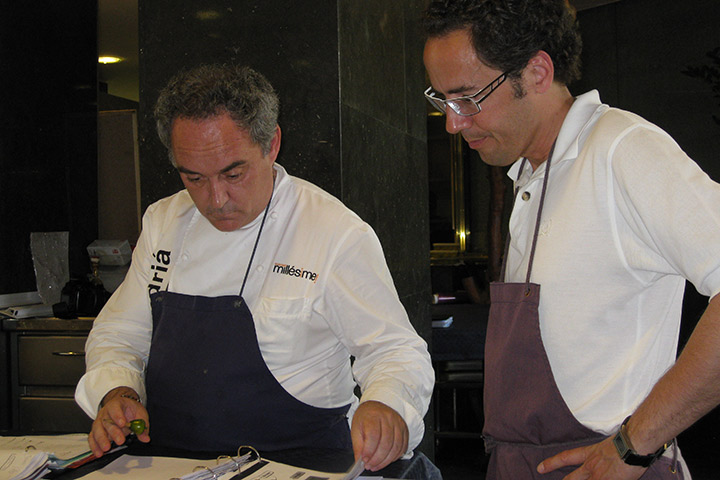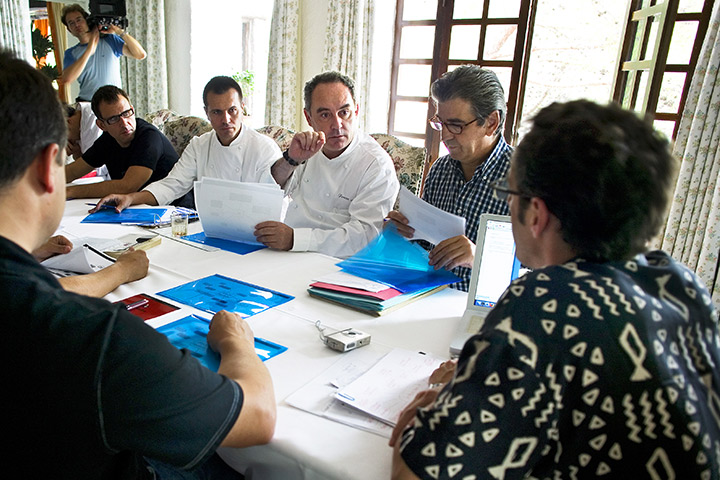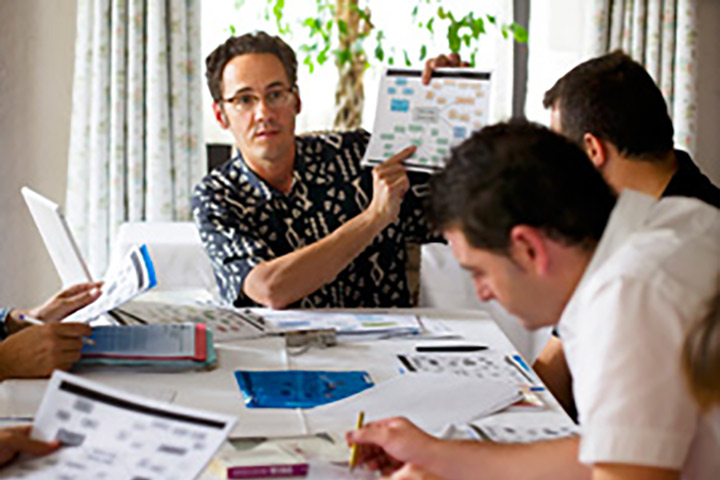 Molecular harmonies and sommellerie
Chartier addressed various topics in this workshop on his aromatic science, starting with the impact on the harmony with wines of foods with molecules dubbed "cold tasting." You can read a report summarizing all of his research on this vast subject in the chapter "The Taste of Cold," published in his reference book Taste Buds and Molecules.
Our flavour and aroma expert also presented other harmonic themes, such as the bold union of Spanish saffron and Xérès fino/manzanilla. He led Ferran Adrià and his team on the aromatic trail of saffron. Chartier was able to show them, with graphics*, that through the presence of different active ingredients of the carotenoid, terpene and aldehyde family, this spice with floral, spicy and cut hay aromas finds an echo in wines with a similar molecular structure. Riesling-based wines, among others, and a myriad of complementary ingredients share the same dominant molecules.
The participants in this conference were also surprised to learn that Japanese Gyokuro green tea (also very rich in carotenoids, therefore marked, like saffron, by a sweet bitterness and by aromas of flowers and cut hay) is also masterfully combined with certain dishes dominated by saffron. Oriol Castro, chef and accomplice of the Adrià brothers, was able to draw inspiration from this new approach to create an elBulli-style dish dominated by saffron and Gyokuro tea. He achieved this feat with brio during Chartier's first stay in the Barcelona kitchen laboratory in December 2008.
As for the aromatic universe of Xérès, one of Spain's emblematic wines, and especially fino and manzanilla, the creator of harmonies was able to explain this type of wine's large aromatic range through a better understanding of its molecular structure. It is composed of acetoin, solerone, terpenes, ethyl acetate, acetaldehydes, and lactones.
After explaining several of his most recent graphic charts, which analyze the aromatic molecules of Xérès fino individually, the participants at this memorable workshop quickly came up with a long list of foods with a similar aromatic structure. The list can be used by sommeliers or by connoisseurs of fine wines to achieve harmony between wines and food. A budding chef or cook can also refer to the list when creating new recipes with foods from the same aromatic families.
It was then time to scrutinize dried figs and smoky black teas using the criteria established by the author of Taste Buds and Molecules. The case of the dried fig is particularly impressive. Its primary aromatic signature comes from a molecule called solerone. This molecule also contributes significantly to the aromatic identity of Xerès fino and smoked teas. However, any self-respecting sommelier tends to combine dishes dominated by dried figs with more vibrant, more evolved, and more caramelized wines than Xérès fino, which is both very dry and very fresh. For dried figs, an Oloroso Xérès that is enveloping and generous is usually chosen.
The great strength of François Chartier's aromatic research lies precisely in this. It is possible to fine-tune the harmonies of food and wine through a better understanding of their molecular structure. Understanding molecular structures opens new avenues previously unexplored simply because of a lack of scientific knowledge. With the results obtained, it is now possible to achieve more accurate harmonies, masterfully marrying dishes dominated by dried figs with Xérès fino. Above all, one can also create new recipes adapted to the success of the harmony. 
As an example, take the ever-popular prosciutto with melon. Since Xérès is Spanish and rich in acetaldehydes like dried ham, take a dried Iberian ham and roll it up on dried figs, preparing skewers. Serve guests a glass of your favourite fino (fresh but not too cold) as an aperitif along with these skewers. The harmony is perfect and frankly better than with melon and Xérès Oloroso, which is traditionally served with dishes dominated by dried figs.
Chartier also suggested to Ferran Adrià and Juli Soler that they have fun transforming one of the outstanding and unsettling dishes that he had enjoyed the previous year: the virtual Iberian ham and tomato soup. His idea was to replace the tomato jelly water with dried fig jelly water, creating a vibrant harmony when served with a Xérès fino.
They also followed him on the trail of the typically Japanese ingredients of sesame and miso, which are among the many Japanese products included in elBulli's 2008 menu, after the team's recent trips to Japan. On this occasion, the team collaborated with the legendary chef Mibu Ishida in his Tokyo restaurant, which has only one table for eight guests!
Sesame is rich in furfuryl thiols (sulphur compounds such as those found in Sauvignon Blanc and Verdejo wines) and lignans (phenolic compounds also found in barrel-matured wines). The elBulli team quickly realized that sesame is in perfect harmony with the wines of these white grape varieties that mature in barrels.
Especially since once toasted, sesame matches the aromatic range of nuts, with smoky and toasted notes generated by the Maillard reaction (browning food by heat). From Sauvignon Blanc for fresh sesame, one moves naturally towards a fermented Californian Fumé Blanc, matured in barrels for the toasted version.
For miso, harmony is dictated by its very fruity esters, with a hint of pineapple; its phenolic compounds, with woody tones; its compounds born from the browning reaction and by the strong presence of the tasty trio glutamate/inosinate/guanulate. Because of their synergistic effect, these compounds give miso volume and texture; it is the fifth flavour, called "umami". Miso, therefore, is in harmony with wines with volume, toasted and roasted aromas, slightly evolved, both fruity and woody.
Finally, after following a few more harmonic trails, Chartier ended the workshop with cotton candy, and a nod to childhood memories. The airy delicacy has been updated over the last few years thanks to reflections and research by the team at the elBulliTaller kitchen laboratory in Barcelona. Since then, many chefs have prepared their own concoctions, both sweet and savoury. Sotolon, an essential aromatic molecule in the world of wine and gastronomy, is the dominant molecule in cotton candy. 
Sotolon is one of the main characteristics of Jura vin jaune (yellow wine), as well in wines from the Sauternes, Tokaj and Champagne regions which have been aged for more than ten years. Sotolon is also the aromatic imprint of maple syrup, curry powder, fenugreek, celery salt, soy sauce, old rum, and old sake! Many ingredients and beverages can be used, both in the creation of cotton candy recipes and to create harmony with wines.
At the end of his presentation, chef Ferran Adrià invited Chartier to return to elBulli from December 16 to 19, 2008, at the mythical elBulliTaller laboratory workshop in Barcelona. The chef and his accomplice Oriol Castro wanted to work personally with Chartier about his research into molecular harmonies. Adrià sought to draw inspiration from Chartier's work to create dishes for elBulli's 2009 menu. Together, they developed over sixty recipes inspired by Chartier's science of molecular harmonies.
For more detailed information on Chartier's collaboration with the elBulli team:
Feel free to read the article "elBulli: Chartier's Aromatic Science as a Food Map to Inspire Chef Ferran Adrià" in the CHEFS category of this website. Also, follow elBulli's Creativity Blog, where Chartier shares his notes from his collaborative sessions at the elBulliTaller and elBulli restaurant for the first time.
D.O. Cava became the first appellation to ask an expert in aromatic science to demonstrate the many possibilities for food pairings with its wines. Another unique experience for François Chartier that allows him to push his research and expertise even further!
In June 2008, François Chartier was invited by the two partners of the legendary Catalan restaurant elBulli, Ferran Adrià and the late Juli Soler, to lead a private masterclass and share his aromatic science of molecular harmonies. Designed for the entire kitchen and dining room team of elBulli (crowned Best Restaurant in the World five times), this marks the beginning of an intimate collaboration with this Mecca of world gastronomic creativity.
Since 2014, François Chartier has been an aroma consultant for Cacao Barry, the world's foremost cocoa processor and chocolate manufacturer which produces a complete range of high-end couverture chocolates and a host of products for the pastry and chocolate industry. Chartier's collaboration has been even more fruitful since Cacao Barry has established branches of its Chocolate Academy around the world in recent years.