Around the world with Cacao Barry chefs ambassadors
In collaboration with chefs Ramon Morató, Jérôme Landrieu, Nicolas Dutertre, Philippe Bertrand, Mélissa Coppel, and many others…
Since 2018, François Chartier has been travelling the world on behalf of Cacao Barry, a producer of high-end chocolate. Even before this adventure, the creator of harmonies had received a mandate to analyze the molecular profile of the company's specialty chocolates to draw up a list of their complementary ingredients, a long-term mission! The result was an aromatic toolbox signed by Chartier for pastry chefs and chocolate makers around the world.
Stunning creations
François Chartier has shared his aromatic science with the best chocolate makers in the world at Cacao Barry's Chocolate Academies in Shanghai, Los Angeles, Rome, Barcelona, Montreal, Chicago and Paris. They have created new recipes that on paper may seem confusing, but which work wonderfully on the palate. Along the way, they concocted memorable aromatic pairings and complementarities: Zéphyr white chocolate and an aligot-style ganache of comté cheese with mango purée, or smoked dark Ghana chocolate with red miso and a salted crispy soba cha praline are great examples of François Chartier's audacity in this area.
Link : https://www.cacao-barry.com/en-US/cocoa-cacaocollective/creativity-kits/francois-chartier-science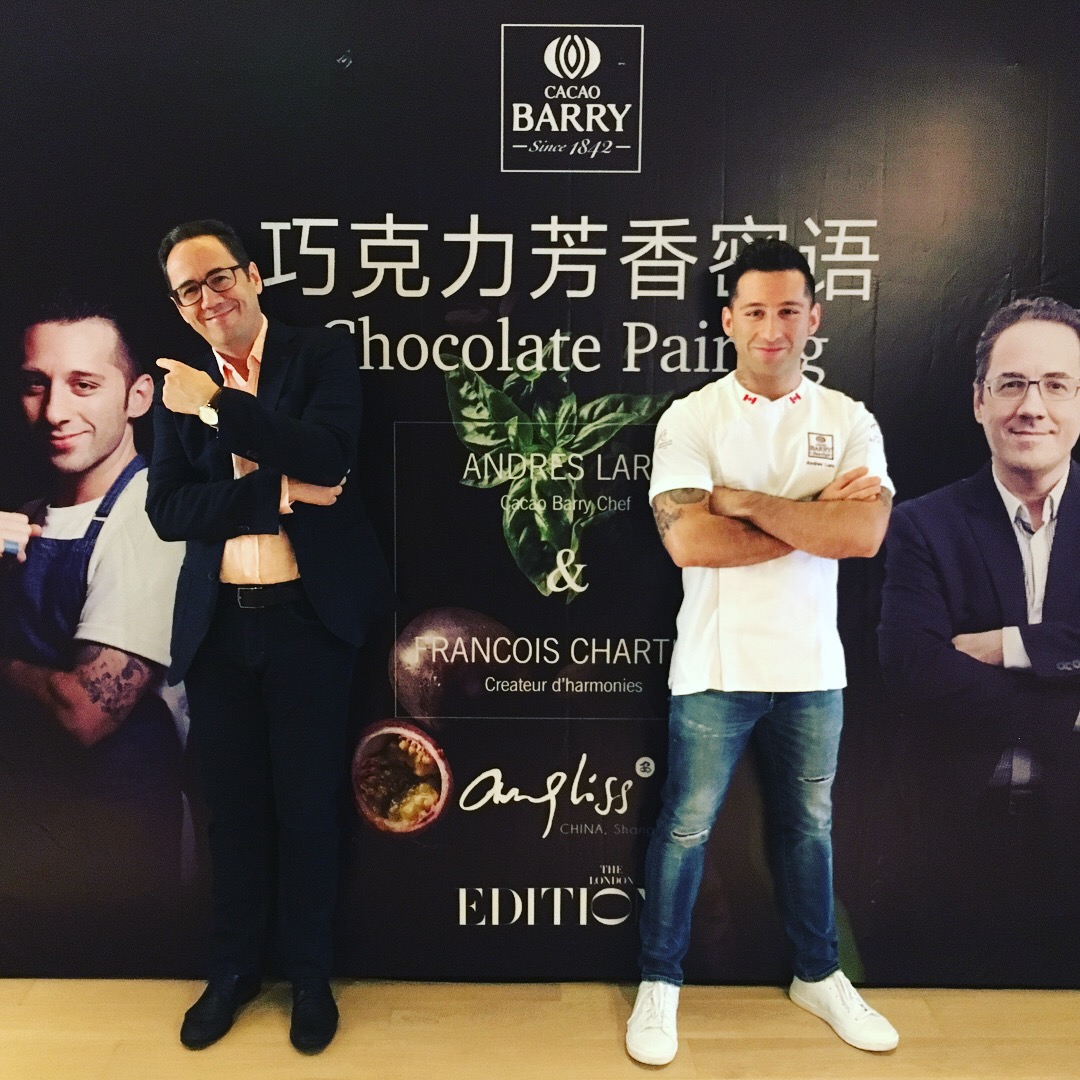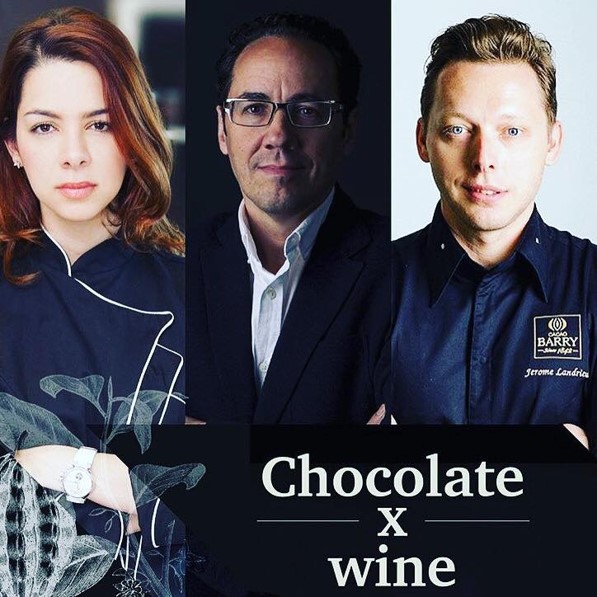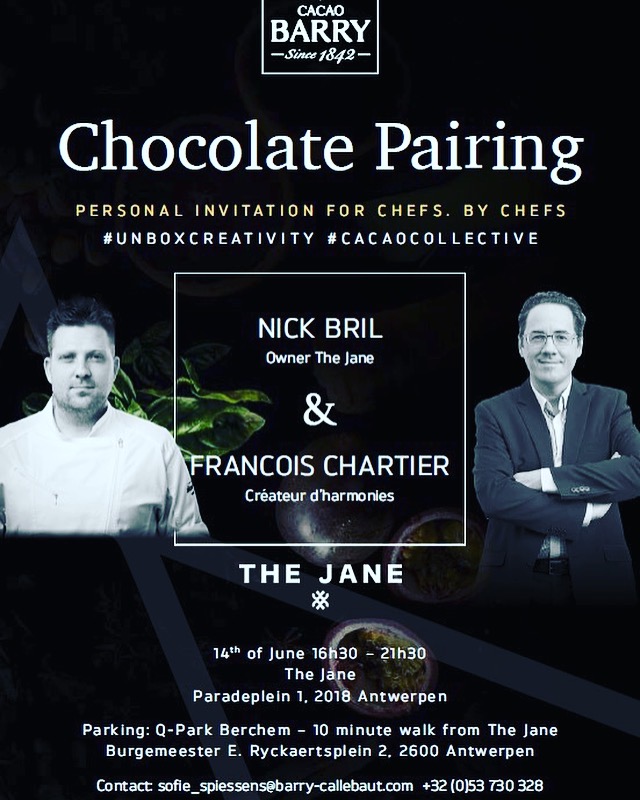 Sciences and Cooking World Congress Barcelona, 2019 edition 
A collaboration with Hiroaki Kitano (President SONY AI) and with chef Carles Tejedor (Sofia Be So restaurant, Barcelona)
Every year the Sciences and Cooking World Congress in Barcelona brings together the leading scientists and the best chefs for a series of seminars and demonstrations. The list of guests for the 2019 edition included chef Heston Blumenthal, from Fat Duck (a prestigious three-star Michelin restaurant in the UK) and American Harold McGee, a leading expert in food science and culinary chemistry. Among the participants were also chef Ferran Adrià, of the elBullifoundation (and co-founder of the famous elBulli restaurant which was often awarded the title of Best Restaurant in the World) and Hiroaki Kitano (President and CEO of SONY Computer Science Laboratories and President of SONY AI; Kitano has developed the AIBO robot, and many more). It was with Hiroaki Kitano that François Chartier led a presentation discussing their project on the potential of Artificial Intelligence (AI) in the service of gastronomy.
A delicious evening of science and flavours
In collaboration with chef Carles Tejedor of Barcelona's Sofia Be So restaurant, François Chartier invited 30 of the conference speakers to enjoy a distinctive meal. Among the guests was Harold McGee (celebrity author of the best-seller On Food and Cooking). The menu was created based on the principles of Chartier's aromatic science. The occasion shook up the traditional codes of food and wine pairings with daring combinations, such as the marriage of a German Riesling with an herb-crusted leg of lamb or the pairing of vermouth with cod served with a pil-pil sauce. Guests were also able to enjoy a world preview of the new Tanaka Sake 1789 X Chartier, Blend 001, Junmai nama-zume 2017, made in Japan by Chartier.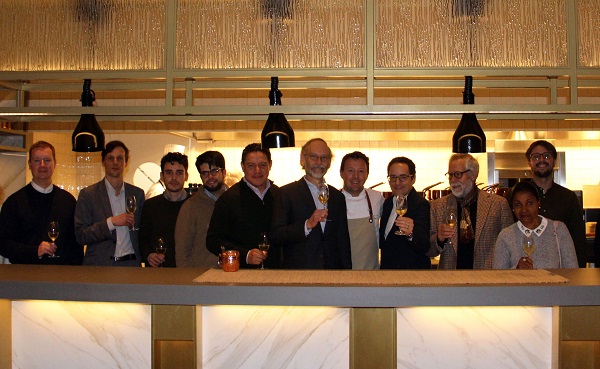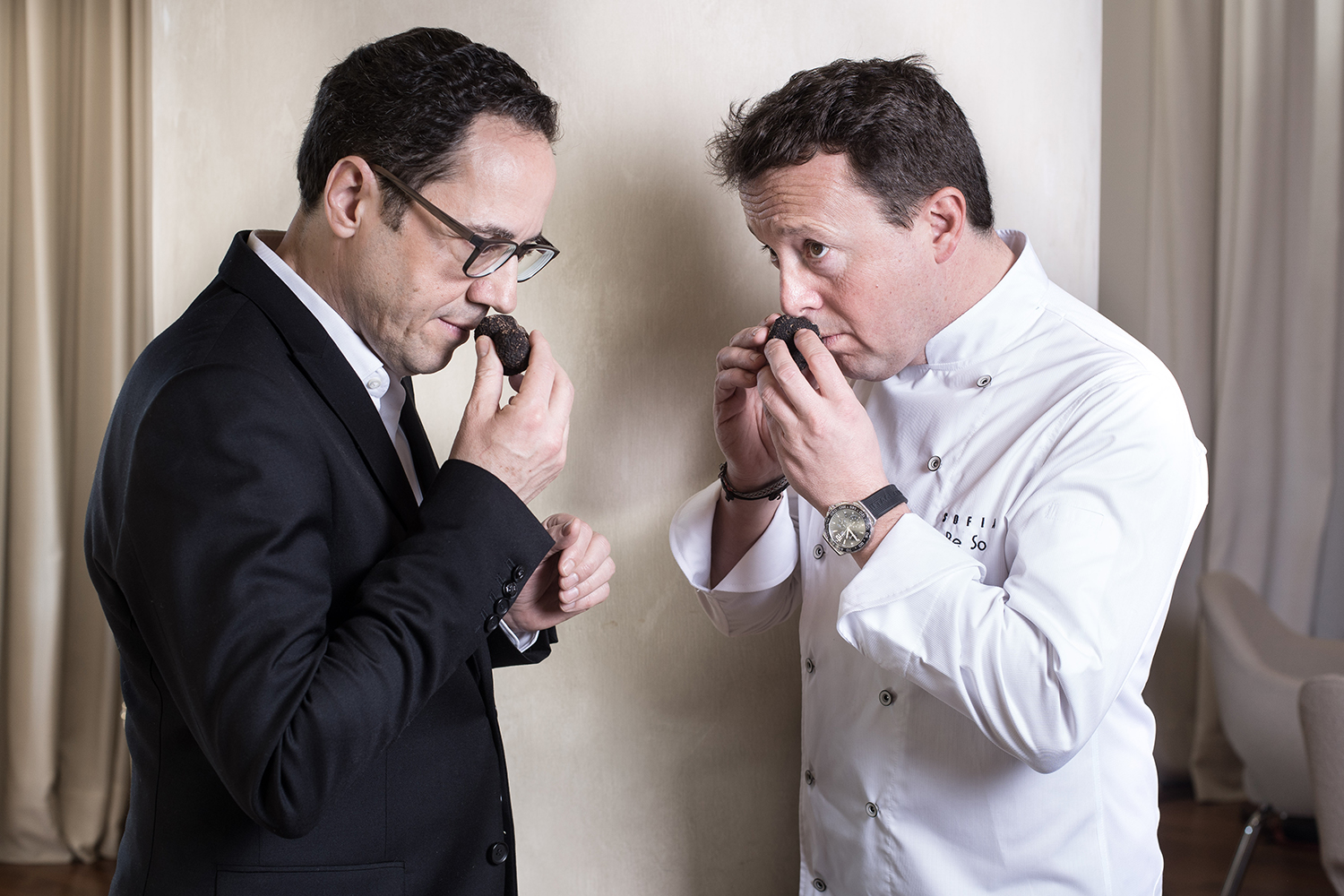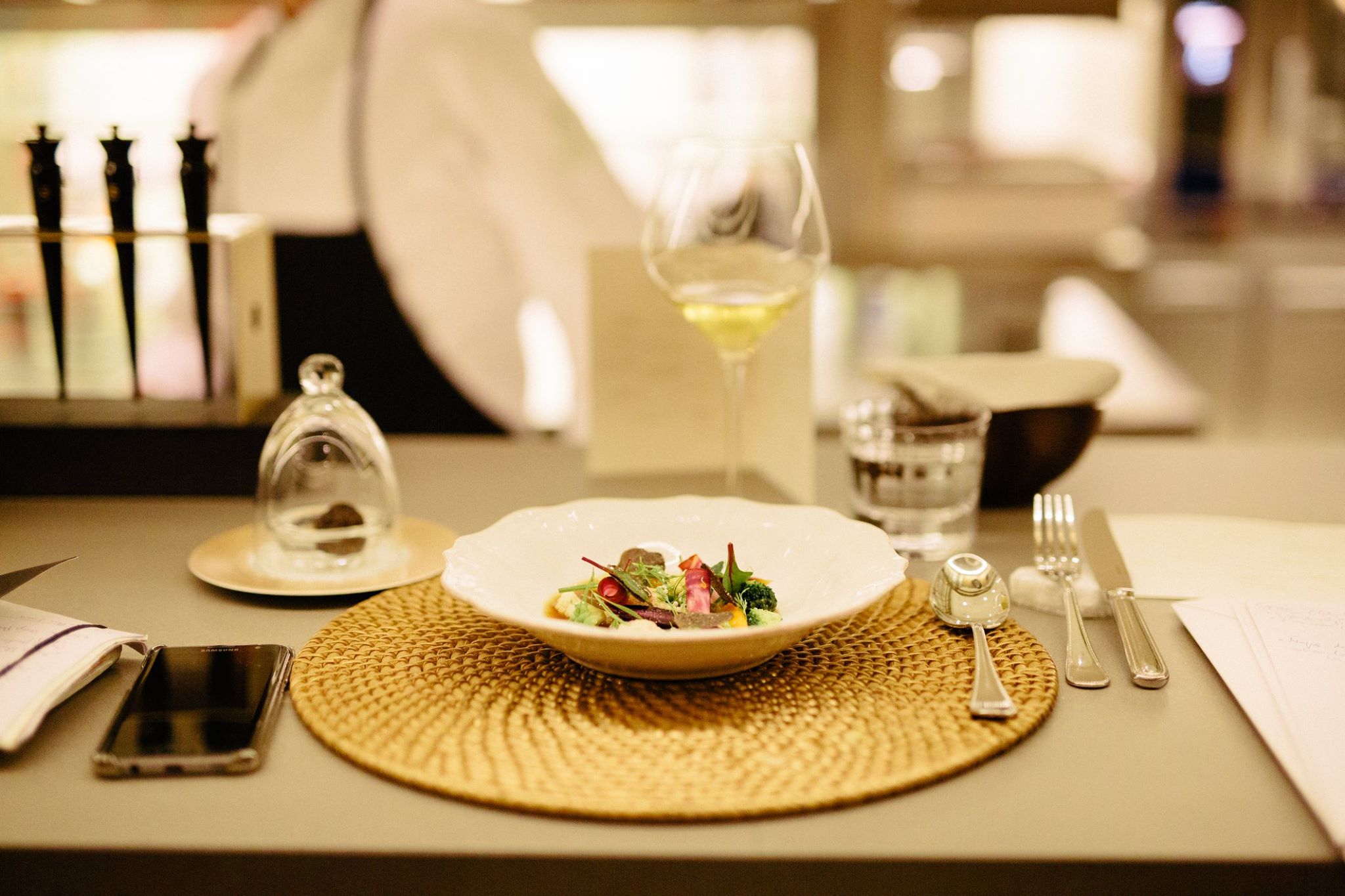 La Última Trufa: A collaboration with chef Carles Tejedor, Sofia Be So restaurant, Barcelona
We see here another unique gastronomic adventure that involved a fabled gourmet product, while proposing bold and spectacular pairings with other ingredients found with Chartier's aromatic science. On February 27, 2019, 10 journalists and 30 privileged customers of the Sofia Be So restaurant in Barcelona enjoyed a thematic and aromatic menu centered on truffles and created by François Chartier in collaboration with chef Carles Tejedor. 
Nine dishes created around truffles
François Chartier used his aromatic science to establish the ingredients and the liquids, each sharing the same aromatic molecules as the truffle to create a perfect synergy. He found aromatic molecules similar to those found in truffles in peas, celery, katsuobushi (dried bonito), cachaça, Junmai style sake (the new Tanaka X Chartier, Blend 001, Junmai Nama zume 2017 was served for the first time during that meal), red wines and champagnes. Then, the action moved in the kitchens, where Carles Tejedor worked with Chartier elaborating the dishes.
François Chartier is the gastronomic consultant for Sofia Be So restaurant, where he also created an exclusive and revolutionary aromatic wine and drinks list. This Barcelona establishment was awarded a Sun distinction in 2020 in the prestigious Spanish guide Guía Repsol.
Eat & Smell to see Picasso (part 1)
In collaboration with chef Romain Fornell from Caelis restaurant (1*), Barcelona
Picasso had the reputation of being a gourmand rather than a gourmet. As an artist, he was also inspired by cooking and was often working directly on his kitchen table. François Chartier chose 10 artworks with a culinary theme by the Spanish master to create a menu composed of as many dishes. This exclusive menu was served for three months at Caelis restaurant, from July to September 2018, in conjunction with the aromatic experience Smell to See Picasso, presented at the Picasso Museum in Barcelona during the exhibition Picasso's Kitchen.
See, smell and taste
The experience began sat down in the restaurant. Each guest was presented with an image of one of the 10 Picasso artworks chosen for the occasion. Everyone could then smell the scent associated with the work thanks to an AROMASTIC, the aroma diffuser developed by Sony. These specific scents were created by François Chartier especially for the exhibition. The experience culminated with the tasting of the food and drink associated with the work on display.
Smell to eat Picasso, the experience developed by François Chartier, in collaboration with Romain Fornell, is a world first. Never has such a complete immersion into the world of art been offered through gastronomy.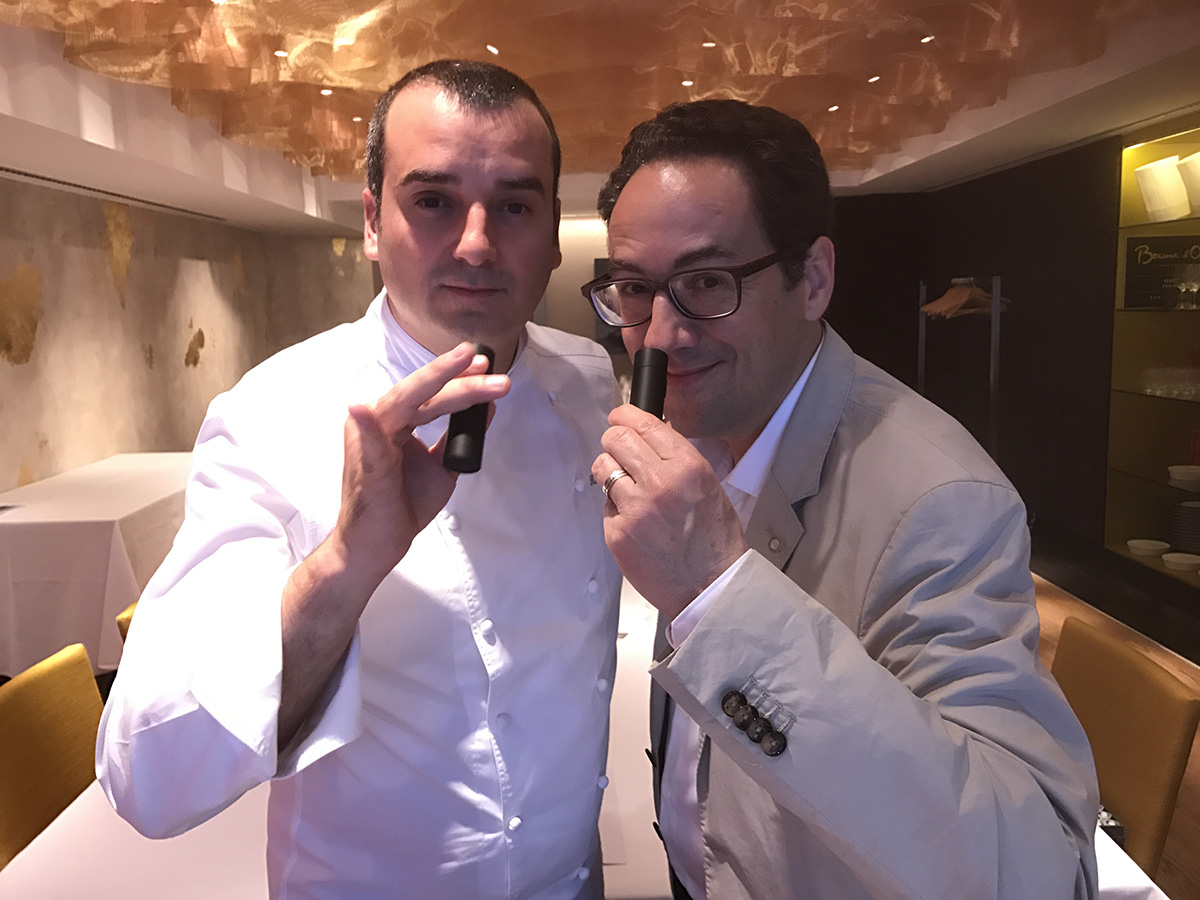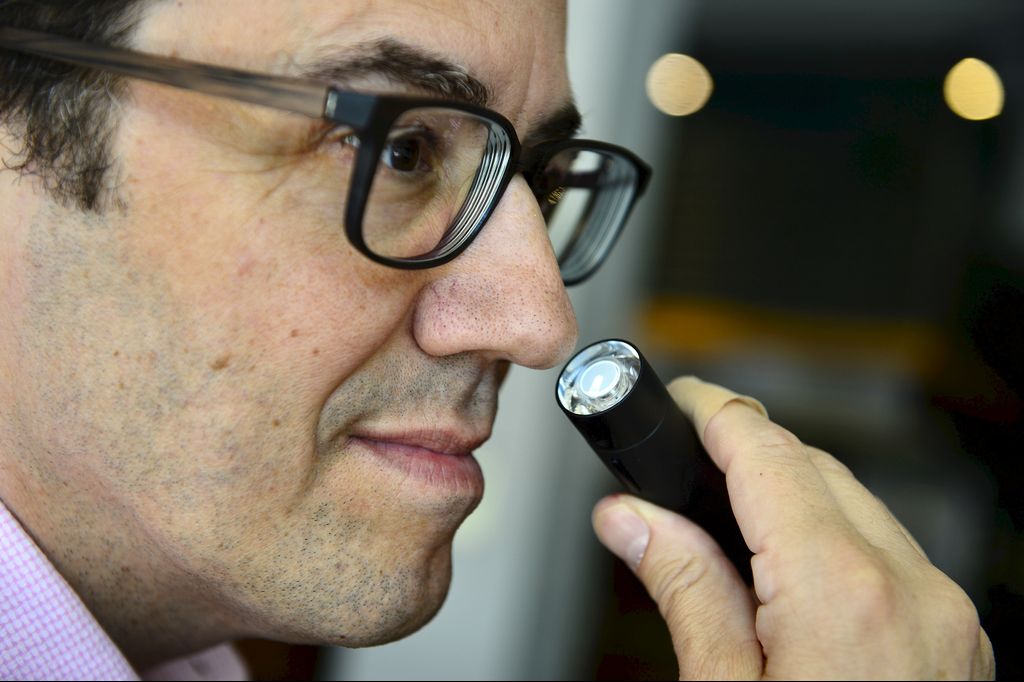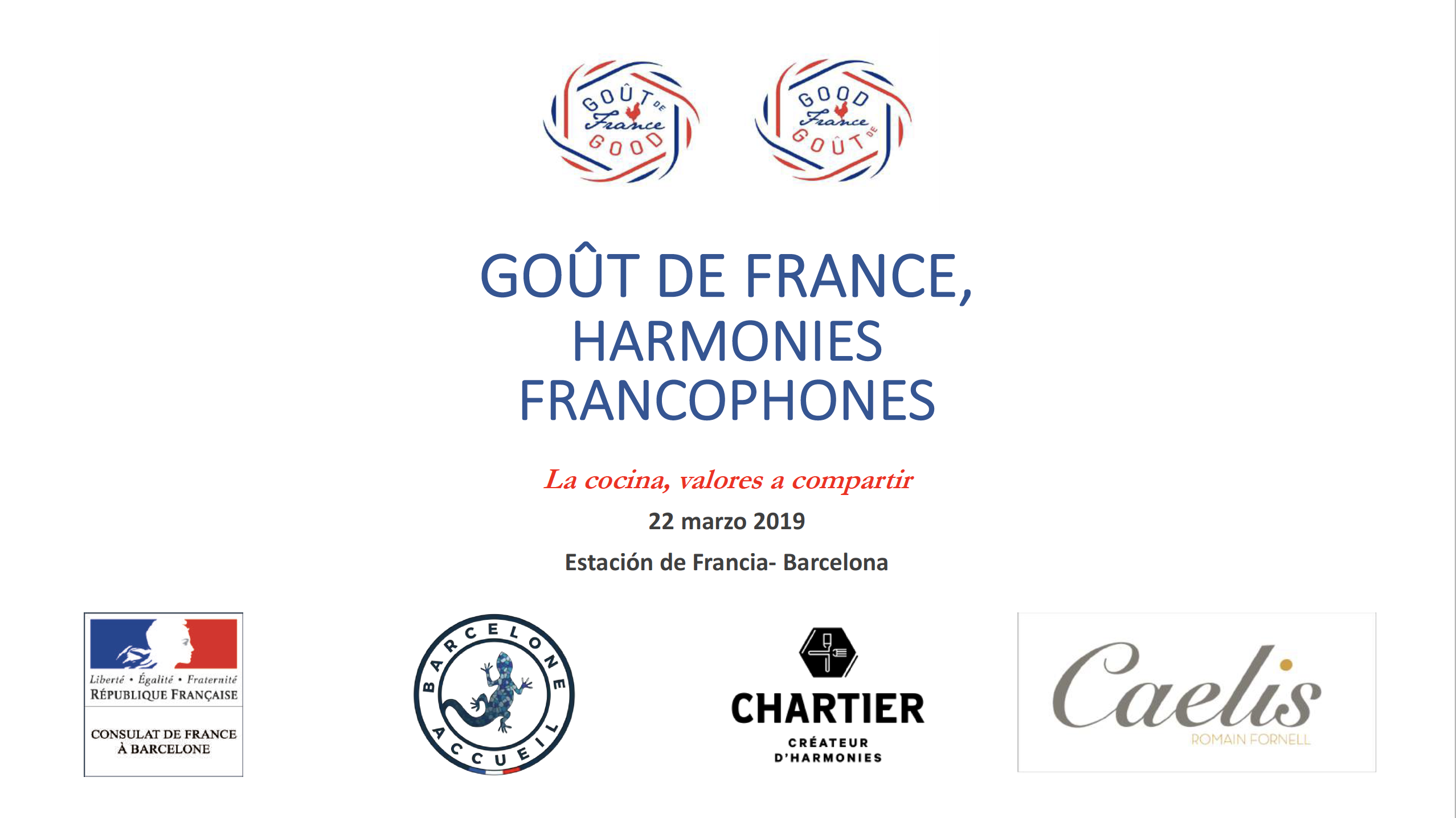 Taste of France in Barcelona
In collaboration with chefs Bernard Bach (2*), Carles Gaig (1*), Marc-André Jetté, Meryem Cherkaoui and Romain Fornell (1*) 
The Consulate General of France in Barcelona asked François Chartier to participate in its Taste of France event in 2019. The cocktail reception is organized each year by the French Ministry of Europe and Foreign Affairs to celebrate French cuisine from around the world.
Five French-speaking chefs and a "créateur d'harmonies"
Five renowned chefs from the French-speaking world cooked a memorable meal for this major gastronomic event held in March 2019 in the lobby of Barcelona's Gare de France train station. Two hundred guests were treated to an amazing meal prepared by five renowned chefs from the French-speaking world, showcasing the best of today's French-inspired cuisine. François Chartier coordinated the culinary event with Chef Romain Fornell, creating exquisite food and wine pairings (some of them served with Chartier's wines) that showcased the guest chefs' unique dishes.
Eat & Smell to See Picasso (part 2)
In collaboration with chef Rafael Peña of Gresca restaurant, Barcelona
When a delegation from SONY AI visited Barcelona in March of 2019, François Chartier repeated the immersive experience into the world of Picasso he initially offered at the Barcelone Picasso Museum and at Caelis restaurant. This time he worked at Gresca restaurant alongside chef Rafael Peña, a well-known figure in modern Catalan cuisine.
Guided by François Chartier's aromatic science, Rafael Peña brought all his sensitivity to this new menu designed to "give taste" to the works of the brilliant creator of Guernica.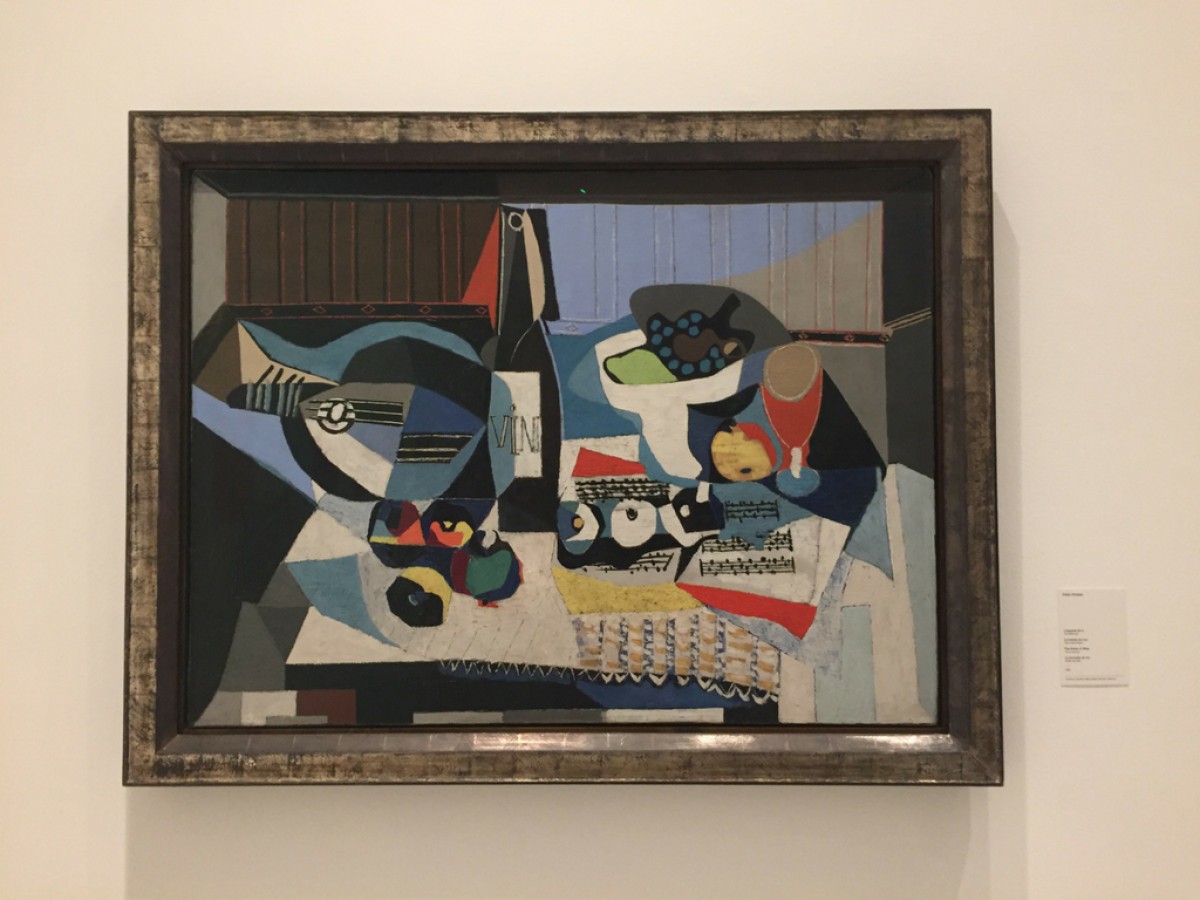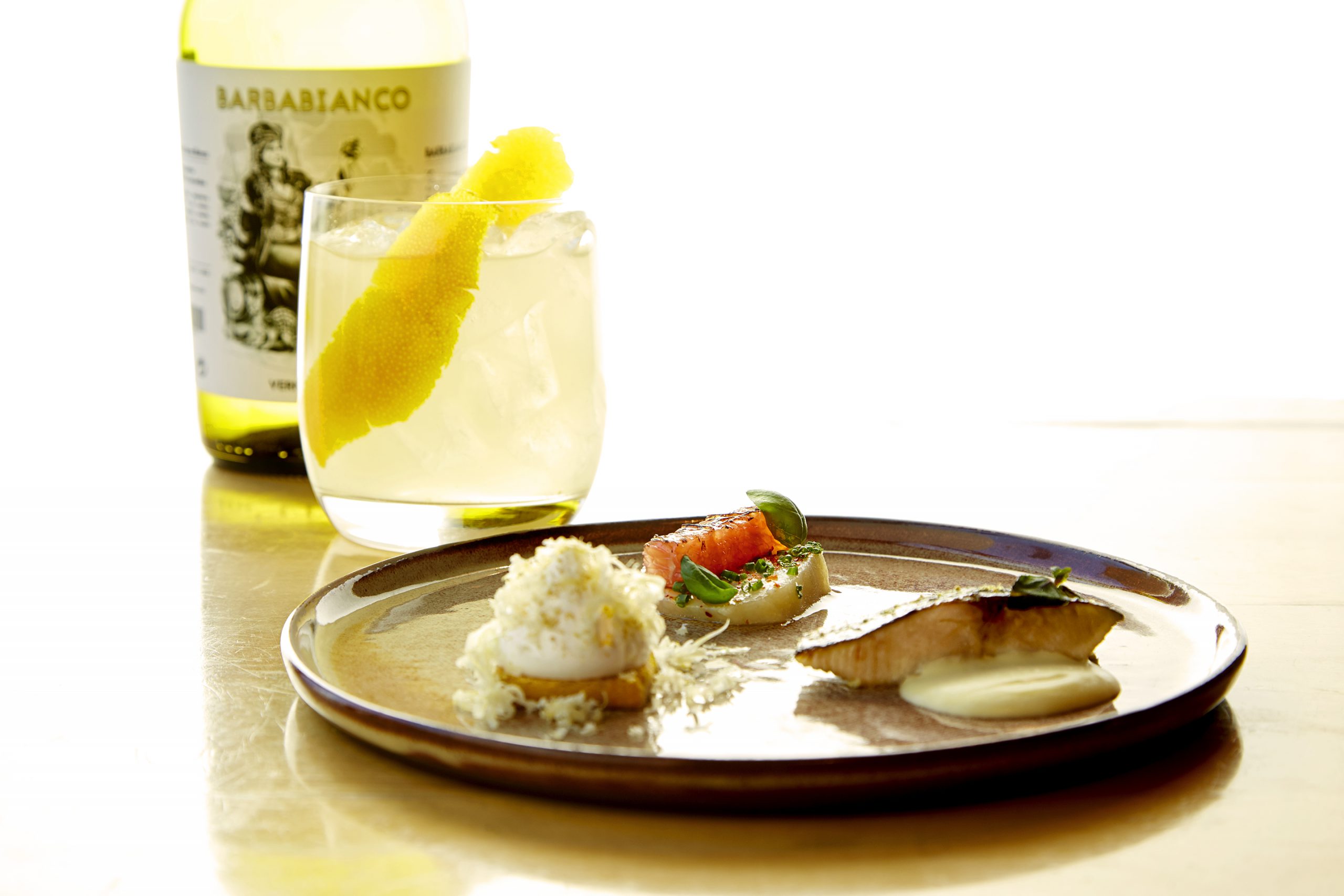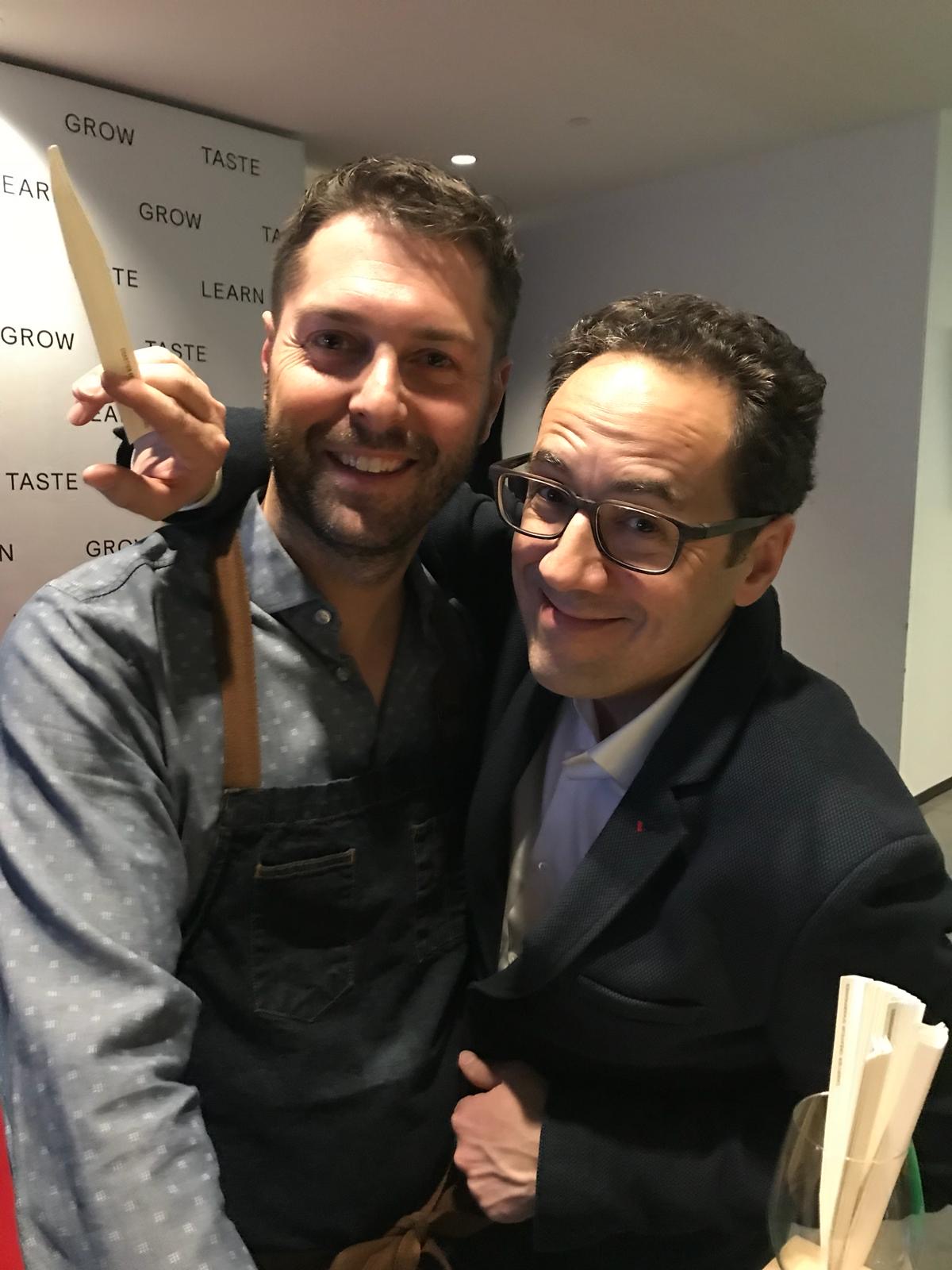 Six hands on deck at Hoogan et Beaufort
In collaboration with Chef Marc-André Jetté of Hoogan et Beaufort Restaurant, and Andrés Lara, Pastry Chef at Cacao Barry, Montreal
November 15, 2018 was a special date at the Montreal restaurant Hoogan et Beaufort. That day, François Chartier collaborated with his friends Andrés Lara and Marc-André Jetté to offer guests a unique five-course menu. The menu showcased Chartier's privately imported wines. A delicious and unique moment.
Alimentaria 2018 : tapas matching !
In collaboration with chefs Carles Tajedor and Ivan Cruz of Sofia Be So restaurant, Barcelona, as well as maître d' and sommelier Nicolas Roché, from Sofia Be So restaurant.
Alimentaria is a biennial international food and beverage exhibition held in Barcelona. One of the themes of the conference was food and wine pairing, a favourite aspect of François Chartier's work. Our specialist in molecular harmonies (thus aromatic) was invited as a special advisor to Sofia Be So restaurant. Alongside representatives from several prestigious restaurants in Spain (Gresca, Via Veneto, Aponiente, etc.), he created a memorable cava-inspired dish.
Mythical cava and exceptional tapas
As he often does in pairings, François Chartier chose the wine first: Llopart – ExVite – 2008, a cava offering complexity, length in the mouth and opulence thanks to more than ten years of ageing in the cellar. The process of culinary creation continued with chef Ivan Cruz. The result was a tapas composed of toasted brioche, parmesan, coffee and apricot purée. This perfect harmony between wine and food allowed the cava to express all its richness and increase its tertiary notes. The tapas gained in lightness and finesse when supported by the wine.
A surprised and delighted public
During the four days of the exhibition, from April 16 to 19, 2018, more than 900 visitors enjoyed the perfect harmony created between the legendary cava and the exceptional tapas.
A special meal with the trio Chartier-Modat-Ferrer !
In this unique meal created by the trio Chartier-Modat-Ferrer, the three accomplices have created recipes brimming with originality. These were inspired by the aromatic profiles of Chartier wines and the Myrcène de glace Brassin Spécial, one of the four beers in the Série Gastronomie developed by the Glutenberg microbrewery in partnership with Chartier. 
The event was held during Montreal Highlights Festival in February 2015. To create this memorable meal, Chef Jérôme Ferrer welcomed his highly innovative colleague Stéphane Modat from Château Frontenac (Quebec) and "Créateur d'harmonies" François Chartier to his restaurant Europea. Guests were thus able to take a foray into the creative intimacy of this trio of gifted artists who are, moreover, long-time friends.
Avant-garde menu created by Chartier and Julien Robillard, XO Le Restaurant
Discover as if you were there the avant-garde menu signed by Julien Robillard, from the XO, Le Restaurant, from Hôtel Saint-James, and by Chartier, Créateur d'harmonies (February 2014).
See Chartier in action, with chef Julien Robillard, during a creative duo session to prepare this avant-garde menu for the Montreal High Lights Festival in February 2014.
A menu signed by Jérôme Ferrer for Chartier Wines, Europea Restaurant
Jérôme Ferrer, chef/owner of the Europea restaurant and Chartier sign a special menu designed to showcase Chartier wines and to create perfect and unusual harmonies. 
This is the story of the elaboration of an exceptional menu, designed for Chartier Créateur d'harmonies wines and signed by Jérôme Ferrer, with the complicity of François Chartier, during the Montreal Highlights Festival 2014.
Tailor-made wine maker dinner for Alvaro Palacios' wines
MARC-ANDRÉ JETTÉ, PATRICE DEMERS ET FRANÇOIS CHARTIER, MONTREAL, Canada
After attending a tasting hosted by the very inspired and talented Spanish winemaker Alvaro Palacios in the Barcelona workshop of the mythical Catalan restaurant elBulli in 2008, François Chartier decided to repeat the exercise in Quebec. He invited this inspired producer to Montreal in November 2009, then orchestrated a meal around the Bierzo, Priorat and Rioja crus, with chefs Marc-André Jetté (today's at Hoogan & Beaufort restaurant) and Patrice Demers (today's at Patrice Pâtissier pastry shop & restaurant) and sommelier Marie-Josée Beaudoin (today's at Patrice Pâtissier pastry shop & restaurant). At the time, all three were working at the Newtown restaurant. 
Designing the menu "from and for the wines"
I wanted to share with you the privilege I had of designing a meal "from and for wines" by winemaker Alvaro Palacios, whose crus are celebrated by the world's great critics and sommeliers and who has helped restore Spain's reputation as a first-class wine country.
This menu was elaborated by following the aromatic trails based on my research in molecular harmony and sommellerie and on the aromas and flavours of the three Palacios estates' wines. I invite you to read, in the BLOG of this web, the recipes of this menu and the details surrounding the creation of three of the dishes on this menu, and the wines that accompanied them.
Inspired by the easy-to-drink and expressive Rioja La Vendimia 2008, we served a beetroot mousse as an appetizer. The idea was to demonstrate that you can awaken your guests' taste buds with a wine that is fair priced and almost rustic. "The beet and our Vendimia is like champagne and caviar!" exclaimed Cristina Palacios.
Then we turned to the unique 2006 Bierzo San Martín, with its notes of cocoa, pepper, black olive and roasted wood. It allowed me to imagine a dish in "tribute to the Bierzo terroir". The salty cocoa puff pastry played the role of the shale layers of the soil; the dehydrated black olive powder played the role of the soil, while the intensely roasted scallop played the role of the pebbles. Not to mention the wild boar, which paid tribute to the black pigs found in the San Martín vineyard, who love to eat ripe grapes. Finally, I recommended serving a sauce composed of a subtle duck broth with Lapsang Souchong tea in a cup so that one could drink this concoction, creating harmony with the dish and with the wine. Mission accomplished by both chefs. Result: a moving symbiosis of ingredients and wine!
With the other dishes, the lamb, with its aromatic structure reminiscent of thyme, was a perfect complement for the two youngest wines from Priorat, including the Camins del Priorat 2007. As for the venison, whose coffee juice and penetrating mushroom purée interacted magnificently with the two great Priorat Finca DofÍ 2003 and 2006, it went in the same harmonic direction.
This stylistic exercise left an indelible mark on the olfactory and gustatory memory of the 50 guests who attended the event.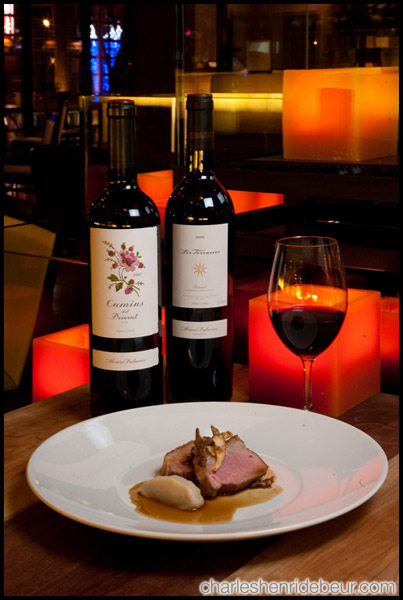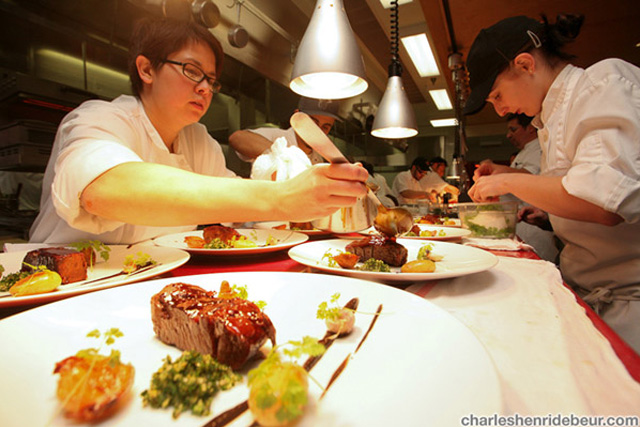 The Penfolds Grand Events
NORMAND LAPRISE AND FRANÇOIS CHARTIER, TOQUÉ! MONTREAL, Canada
The great Australian house Penfolds, known worldwide for its wide range of quality wines (including the mythical Grange, considered the greatest of all Australian wines), visited Montreal on November 6, 2009. It launched its prestigious Cellar Reserve Wines series, a range of great signature wines produced in limited quantities. Renowned cellar master Peter Gago co-hosted a dinner-tasting with François Chartier, who was asked to create a menu inspired both by the wines and by his innovative research on molecular harmonies and sommellerie outlined in his book Taste Buds and Molecules.
Finally, to create this menu with Chartier, chef Normand Laprise, co-owner of Toqué! and his right-hand man, chef Charles-Antoine Crête (today's at Montreal Plaza restaurant), agreed to collaborate with Chartier on this adventure. A unique quartet for a meal that made history with the subscribers of the SAQ's Courrier vinicole, for whom this gastronomic activity had been concocted.
In June 2008, François Chartier was invited by the two partners of the legendary Catalan restaurant elBulli, Ferran Adrià and the late Juli Soler, to lead a private masterclass and share his aromatic science of molecular harmonies. Designed for the entire kitchen and dining room team of elBulli (crowned Best Restaurant in the World five times), this marks the beginning of an intimate collaboration with this Mecca of world gastronomic creativity.
Chartier's aromatic science has been called on to help prepare the 20th anniversary menu of the Mugaritz restaurant. With its hugely talented chef Andoni Luis Aduriz, Mugaritz ranks seventh in the 2019 "World 50 Best Restaurants".
To mark the 10th anniversary of Barcelona's Michelin-starred restaurant Dos Palillos, Albert Raurich and the sommelier Tamae Imachi, co-owners of this creative restaurant, has decided to create a series of 12 special gastronomic events and invite his friends each month to cook a meal with him at his establishment, including François Chartier. Albert Raurich therefore tasked Chartier with developing a menu inspired by his science of molecular harmonies, thereby celebrating the 30-year aromatic career of the Quebec "Créateur d'harmonies".