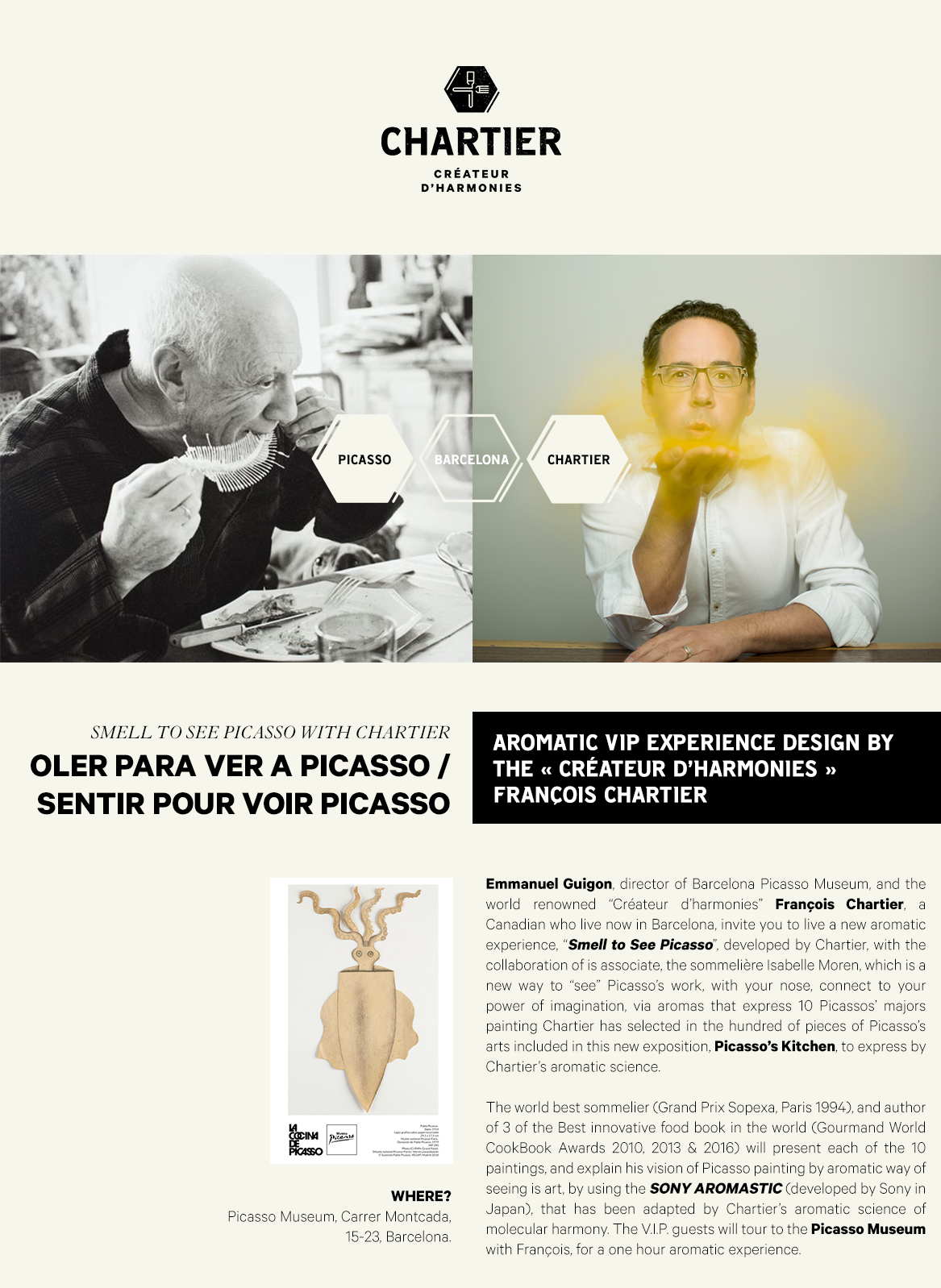 A unique experience: Smell to see Picasso
Picasso upside down
To ensure the experience's full potential, François Chartier asked Sony of Japan to use their innovative personal aroma diffuser, the Sony Aromastic. This allowed visitors at the exhibition to discover Picasso differently, using an Aromastic loaded with the essences François Chartier developed. They were thus able to grasp the extent to which our sense of smell is complementary to our sense of vision and experience a complete immersion in the world of the legendary artist.
Surprising harmonies
François Chartier has had outstanding results in developing aromatic synergies calling on his science of molecular harmonies and sommellerie. Picasso painted Naturaleza muerta con cesto, tres erizos de mar y luz in 1946. The painting is a still life which, as its name suggests, depicts a basket and three sea urchins. As visitors took in this work, they were invited to turn their Aromastic to the number 9 position. Chartier had surprisingly chosen the scent of raspberry, which really suggested the iodized smell of sea urchins. The painting Calavera y puerro (1945) is a still-life depicting leeks and a skull placed on a counter. By turning their Aromastic to the number 8, the visitors would discover the smell of damp earth to accompany their appreciation of the work.
We have known for a long time that smell is essential to the sense of taste. With his work at the Picasso's Kitchen exhibition, François Chartier brilliantly proved that smelling can also make it possible to see better.
There is no doubt that the adventure between François Chartier and Sony Aromastic has only just begun!
Discover also the two aromatic menus inspired by the works of Picasso that Chartier has signed at Caelis and Gresca, two great tables in Barcelona :