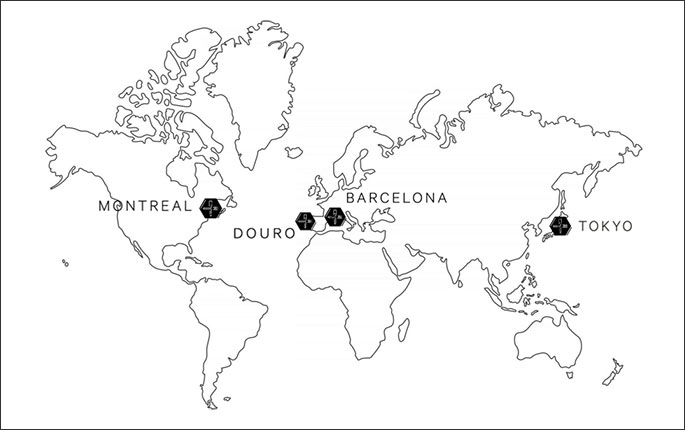 Barcelona (Spain)
Nihonbashi/Tokyo (Japan)
Douro (Portugal)
Montreal (Canada)
The Chartier World LAB, which is intended to be a space for research and creation, is a disruptive, multidisciplinary and inclusive laboratory based on the aromatic science of molecular harmonies.
After thirty years in a nomadic "LAB", working in some thirty countries, in 2021, François Chartier, together, with his wife and associate sommelier Isabelle Moren, and their project manager, sommelier Nicolas Roché, cofounded the company Chartier World LAB Barcelona, which is intended to explore the world of wine and other beverages, gastronomy and aromas, including the world of perfumes and sensory experiences, from multiple perspectives, including the study of aromatic properties from sensory and scientific analysis (analysis of molecular harmonies) and the analysis of the aromatic impact of viticultural biodiversity on the wines of the world's vineyards.
The aim is also to focus on the molecular harmonies of wine and its applications to the matching or development of resources based on artificial intelligence, among other things for haute cuisine and many other disciplines, such as perfumery, arts and immersive experiences 
The Chartier World LAB Barcelona specializes in four main areas of molecular harmony analysis, aroma research and development of products and experiential events:
 – Molecular analysis: The analysis of products to define their uniqueness and typicity, both in wines and other beverages as well as in gastronomy, food and the world of aromas and fragrances.
– Consulting: With more than 35 years of experience in various sectors, the Chartier World LAB offers its expertise to companies in the fields of research and development, innovation, creativity and communication.
– Experiential: The creation of new experiences in the world of gastronomy, wine, arts, culture and new technologies, as aromas are a universal and unifying language.
– Education: The Chartier World LAB disseminates its research and knowledge around the world through private and public master classes, as well as by working with different universities and companies with which it carries out projects, including the "Universitat de Barcelona – Gastronomía y Aromas – Chartier World LAB Barcelona" professorial chair (set up in November 2021), as well as the Chartier Academy, which will be established in 2022.
The Chartier World LAB Barcelona is also the home of a few other Chartier World LABs in development, including Nihonbashi/Tokyo/Japan (scheduled to open in 2022-2023), Douro/Portugal (scheduled to open in 2022), and Montreal/Canada (scheduled to open in 2022-2023), all of which are inspired by the Barcelona LAB and all of which benefit from the expertise of the Chartier World LAB Barcelona team, as well as Barcelona's leading chefs and food scientists.
The Chartier World LAB Barcelona will also use its "Universitat de Barcelona – Gastronomía y Aromas Professorial Chair", set up on November 3, 2021 and born from the collaboration between the Chartier World LAB and the Campus de l'Alimentació de Torribera (University of Barcelona) with the aim of promoting a set of activities aimed at emphasizing teaching, research and transfer of academic knowledge in the field of gastronomy and flavors, by programming workshops, an extension of university courses, a competition of challenges of creativity and innovation, all biannual, and an annual research grant, as well as other activities.
Finally, the Chartier World LAB Barcelona had already begun cooperation with the University of Barcelona, in 2020, with the launch of a study project on the reuse and recovery of the lees of sparkling wines of the DO Cava in the production of natural yeast to make bread and yeast derivatives. This collaboration has taken the form of a thesis, supported by the Chartier World LAB Barcelona, developed by the doctoral student Alba Martín Garcia (who has since gone to work at the Chartier World LAB Barcelona) directed by Montserrat Riu of the Research Group Wines, Flavors and Quality Factors at INSA-UB.