I have chosen to focus of the subject of sotolon, as described by François Chartier's science of molecular harmonies. I picked a 1982 vintage sake, which was aged at room temperature. Sakés are oxidized in a tank for a long period in order to develop aromas from the sotolon family. 
While explaining sotolon in his book Taste Buds and Molecules, François Chartier noted its presence in madeira, mature champagne, port, sherry, and so on. I believe vintage sake also falls into the sotolon family; something Chartier confirmed in his next book, L'Essentiel de Chartier.
When I prepare different pairings with aged sake, I use ingredients belonging to that aromatic family, such as sherry, maple syrup and roasted fenugreek powder, which allow me to develop the flavours of sotolon well. With its charcoal-grilled taste, caramelized sauce and spices, the grilled eel dish enhances the pairing with vintage sake, creating a perfect match!
For a unique pairing experience, try serving this vintage sake warm (between 50 °C to 58 °C). For the purpose of comparison, we have also tasted the dish with cold sake. Hence, we can confirm that the warmed sake creates new and different harmonies, offering a much more memorable and satisfying dining experience.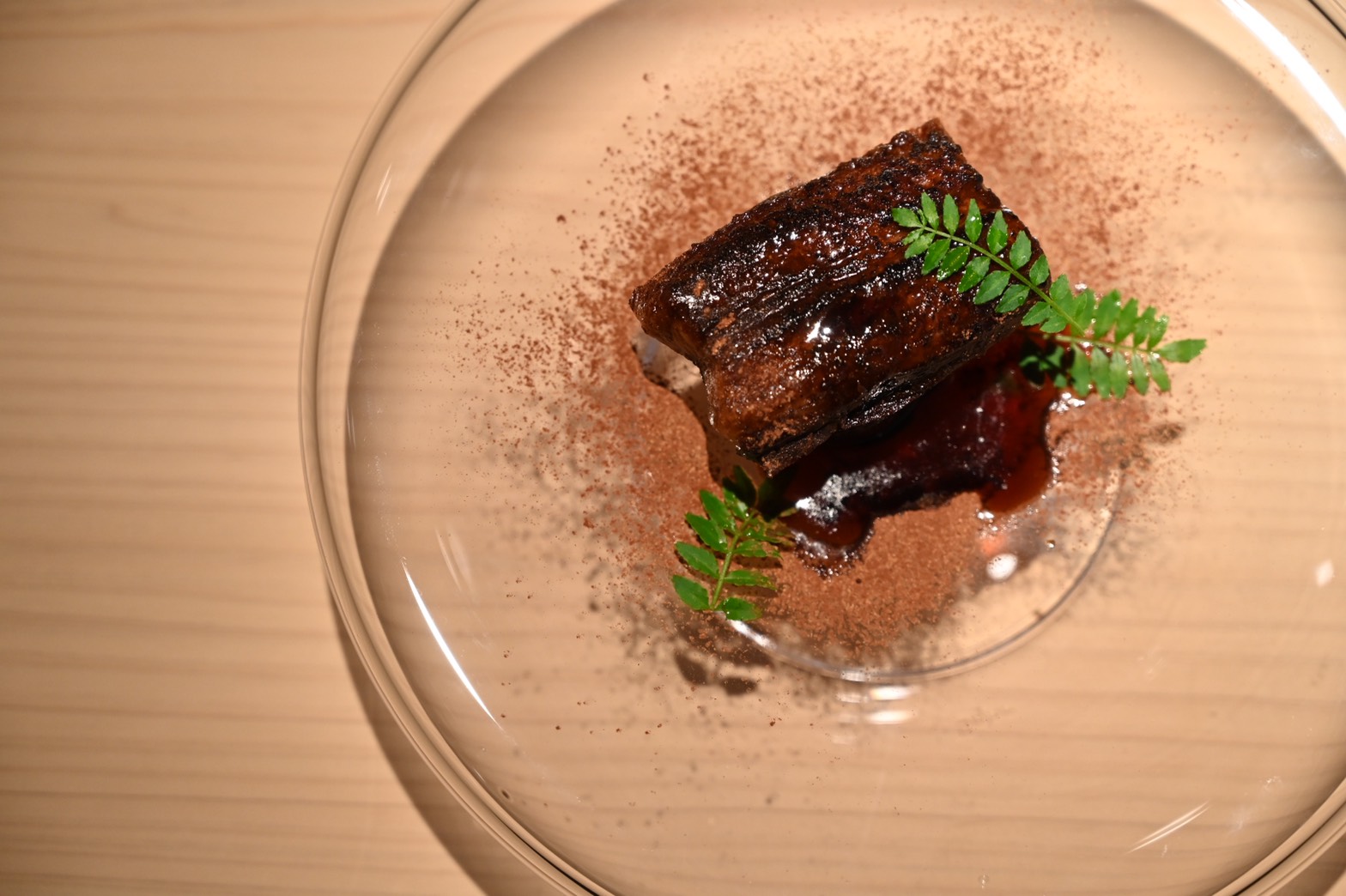 Charcoal Grilled Eel and Eggplant (sotolon-inspired, with the aromas of aged soy sauce, cocoa and some spices)
Recipe inspired by sotolon ingredients and aged sake
Serves: 4
Ingredients
¼ Vanilla bean
25g Olive Oil
160g Eel
1 Eggplant
50g Soy sauce
50g Miso
30g Sherry
25g Brown sugar
15g Maple syrup
1g Cocoa powder
0.5g Cinnamon powder
0.1g Clove powder
1g Roasted fenugreek powder
8 pieces Kinome (Sansho pepper)
Directions
Prepare vanilla oil. Soak vanilla bean in olive oil and let stand overnight.
Sprinkle eel with salt. Steam for 20 minutes in a convection oven at 100 °C.
Cut eggplant into slices (3 cm). Sprinkle with salt.
Prepare sauce for eel. Add 25g sherry and 50g miso into a deep pot and bring to a gentle simmer to let alcohol evaporate.
Add soy sauce, brown sugar and maple syrup. Simmer lightly, then remove from heat.
Add 5g additional sherry (to produce exceptional flavor).
Alternate eel and eggplant on a skewer. Grill over charcoal until brown. Baste with sauce and return to charcoal grill. Repeat this process twice.
Make spice mix, blending cocoa powder, cinnamon powder, clove powder, roasted fenugreek powder and kinome.
Plate eel and eggplant and spoon on sauce. Sprinkle on mixed spices and vanilla oil.