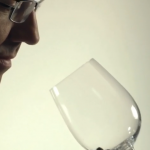 Québec director Kim Nguyen, whose movie War Witch (Rebelle) was nominated at the Oscars in 2014, will have the honour of officially opening the Montreal International Documentary Festival (RIDM) on November 12, 2014, with his new film, The Empire of Scents, a documentary film inspired by the best seller Taste Buds and Molecules: The Art and Science of Food With Wine written by François Chartier Créateur d'harmonies.
The world-renowned sommelier is particularly honoured that his science of aromatic harmonies and molecular sommellerie — a discipline he created in 2004 —, as well as his book, which is available in many countries, have become the foundation for such an aromatic fresco by this movie director.
François Chartier, who has been involved in the project since its inception in 2010, salutes the poetic evolution and personal vision brought by Kim Nguyen to the fascinating universe of aromas, which is at the very core of the sommelier's groundbreaking research.
Moreover, Chartier is delighted that so many of his major partners and friends — chefs, winemakers, perfumers and scientists — will be brought to light on the silver screen thanks to the interviews Kim Nguyen was able conduct with his complicity.
Program:
http://www.ridm.qc.ca/en/news/latest-news/1273/le-nez-by-kim-nguyen-to-open-the-17th-edition