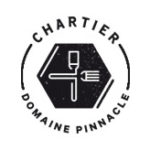 Established in Frelighsburg, Québec, Domaine Pinnacle has asked CHARTIER Créateur d'harmonies to created recipes that incorporate some of their wildly popular products, locally and abroad, such as the Ungava Premium Dry Gin.
Already, a booklet of some of those recipes — created by Chartier Créateur d'Harmonies and his friend and collaborator Stéphane Modat, chef of the Fairmont Château Frontenac restaurants — titled "Le Guide de Recettes Aromatiques Saveurs d'Ici" is being offered for free when purchasing a Pinnacle product at SAQ branches and at Domaine Pinnacle. Moreover, additional recipes will be available to discover in the coming weeks as blog posts, photo galleries and videos.
François Chartier and Stéphane Modat were inspired by the aromatic structure of the Domaine Pinnacle products in order to create aromatically tailored dishes and cocktail recipes that perfectly pair or incorporate those products. The photos are by Stéphane Modat.