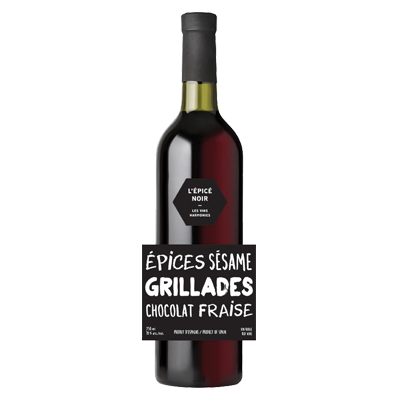 Following the undeniable success of the first three wines in François Chartier's Vins Harmonie range, the "Créateur d'harmonies" is delighted to introduce a fourth wine to their range: L'Épicé Noir, a Spanish red wine made from very old vines, between 45 and 65 years old, from Campo de Borja D.O.. It is a most aromatic, ample, juicy, one might even say plump, with blended tannins but devoid of woody notes and chock-full of red fruit and spices. It is available exclusively at IGA stores in Québec starting August 27, 2015.
With the help of is longtime friend and renowned French oenologist Pascal Chatonnet, Chartier created this red wine from very old garnacha vines in collaboration with Isaac Fernandez, the celebrated Spanish vintner who's spent the first 25 years of his life in Vega Sicilia, the mythical Spanish vintage, and with whom Chartier also created his Ribera del Duero available at SAQ.
L'Épicé Noir stems from the Campo de Borja D.O. appellation located in the northwestern part of the Zaragoza region (Aragon, Spain), more specifically from the Moncayo mountain, ground zero of wine growing belonging to this appellation because of its microclimate (the vine hills are at an altitude of 700 meters) and peculiar soils (ferruginous clays) that give this wine a unique character when compared to others in the same appellation.
Selected, assembled and aged by François Chartier, L'Épicé Noir, a new, high quality Spanish wine was elaborated to pair with grilled meats, fish, and vegetables as well as dishes based on BBQ and chipotle sauce, as well as dark chocolate, ginger, tarragon, coffee, bell peppers, cloves, beets, strawberries, vanilla, smoked paprika, and roasted sesame seeds.
Read the technical sheet for L'Épicé Noir.