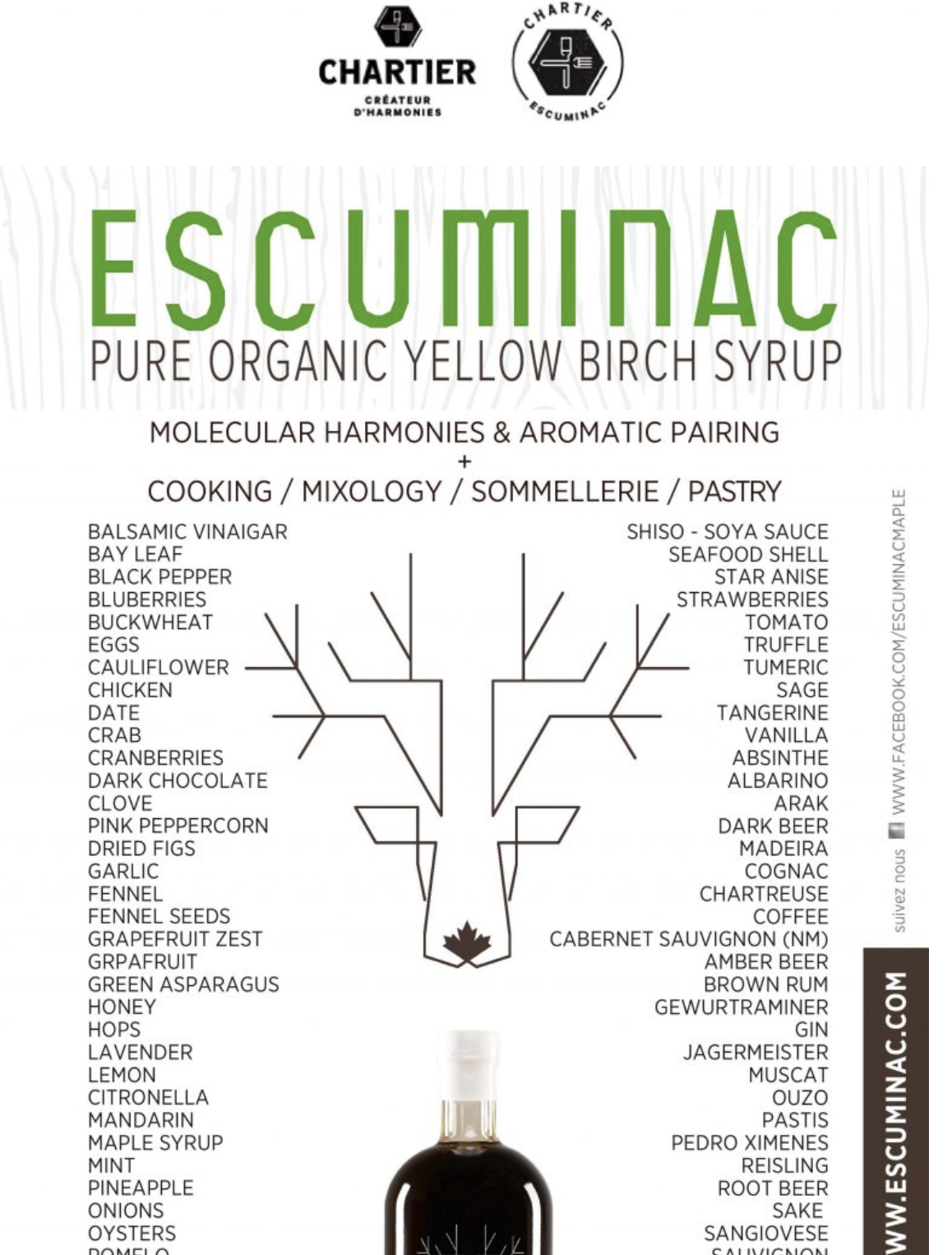 ESCUMINAC : MAPLE AND YELLOW BIRCH SYRUPS EXAMINED THROUGH CHARTIER'S "SCANNER"
The "créateur d'harmonies" François Chartier enjoys working with the best food producers to help them find the different aromatic harmonies with their specialties. Here, he shares his research approach developed with Érablière Escuminac, a fine Quebec maple grove.
Érablière Escuminac was among the first companies to put their trust in the "créateur d'harmonies" François Chartier and in the science of molecular harmonies that he has been developing since 2002. An honour for Chartier, since the maple syrup of this Quebec company, which works under organic management, is of such high quality that it has become a favourite among great chefs around the world. Érablière Escuminac also produces a remarkable pure organic yellow birch syrup that has won numerous awards. A rare product, highly prized by professional chefs, among others.
In 2015, Chartier was given the mandate to scientifically analyze the two flagship products of Érablière Escuminac in order to establish an aromatic map of the complementary ingredients and beverages that share the same dominant aromatic molecules as these two exceptional syrups. Chefs and mixologists from around the world, especially from Canada and Europe, have since been able to take advantage of these new creative tools using these two syrups to their full potential in their recipes.
Two grand crus
Escuminac maple syrup is both extra-fine and very rich, and its aromatic profile is reminiscent of butter-heated brown sugar, date purée, English toffee and green anise, with a subtle hint of curry. It is dense, full, textured, full-bodied, syrupy, but not excessively long on the palate. In short, a grand cru! It is perfect for creating spicy recipes and cocktails based on barrel-aged brandies (bourbon, cognac, scotch). In the kitchen, the possibilities are numerous. Marry it with soy sauce, curry powder, huitlacoche, wild rice, lovage, celery salt, roasted chicory, coffee, tonka bean, vanilla, black licorice, nigori sake, kirsch, roasted fenugreek seeds and Candy cap or Chaga mushrooms, among others.
As for the award-winning Escuminac pure organic yellow birch syrup, which comes from a unique forest and is traceable from tree to plate, it is also a high-end product that is marked by many dominant aromatic compounds, including furans, methyl salicylate, octanal and vanillin. It has a certain aromatic similarity with balsamic vinegar, but that is where the comparison ends. The syrup generates its own unique identity, which results in a noble product, with an amazingly complex aromatic DNA. Thus, this yellow birch syrup can be used to prepare a wide range of foods, ingredients and liquids that share the same dominant aromatic compounds. These compounds are the result of research in the science of aromatic harmonies and sommellerie that François Chartier has been conducting since 2002.
Discover the results of Chartier's molecular harmonies research on these two exceptional syrups: